Spring Speech Therapy Activities + Free Printable!
Spring is in the air! The snow is melting. Flowers are blooming. And of course, it's time to pull out some spring-themed activities for your students. So if you are looking for some spring speech therapy activities, here are a few ideas to get you started!
A lot of the following ideas are for students who are working on language goals – from emergent communication (think pre-k or minimally verbal students) to students working on language therapy skills such as following directions, inferences, and WH- questions. I also have a couple of articulation activities in the list as well!
This post contains affiliate links, which means we could receive a commission if you click a link and purchase something that we have recommended.
Spring Speech Therapy Activities:
Spring-Themed Coloring Pages
Coloring can be a very motivating (and calming) activity for a lot of students. I like to check out my local dollar tree for coloring books or print out something that can with the student's needs.
During a coloring activity with early communicators, you can work on spring vocabulary, requesting colors, and expanding utterances.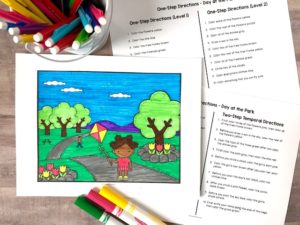 For students who are working on auditory comprehension, you can use spring-themed coloring sheets paired with directions at their skill level. If you want a print-and-go version of coloring pages and directions, you can check out this set.
Spring Speech Therapy Crafts
I love a good craft! I tend to come across a lot of "roll-and-draw" activities (where you roll a dice to see what part to draw on next), but since some of my students have limited fine motor skills, gluing on pieces works much better for me!
This Roll-a-Chick Craft works for small group speech therapy or individual sessions. You can have students work on requesting a turn, passing the dice, stating the number and piece they rolled and requesting any materials they need!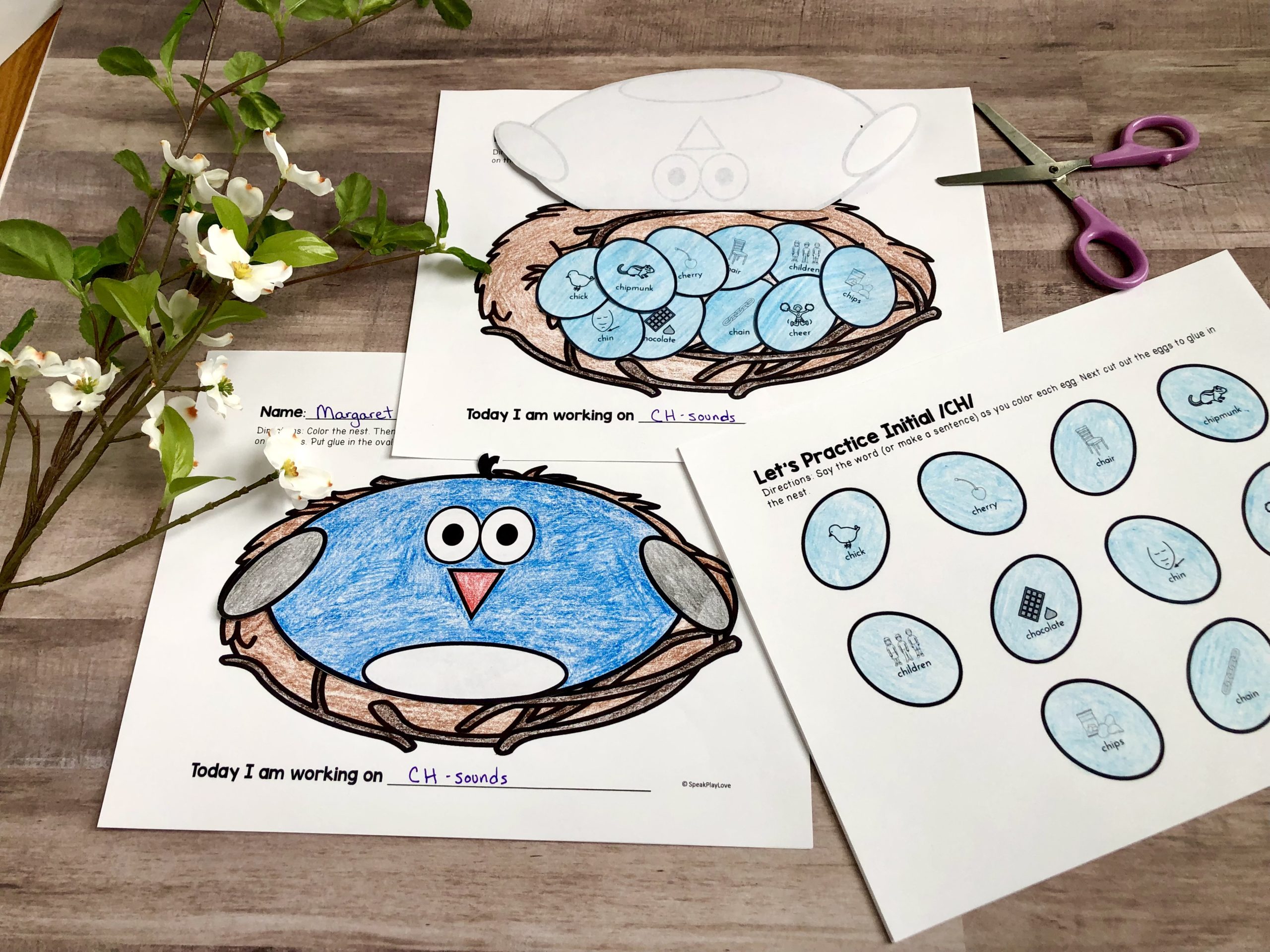 If you are looking for a craft to keep your students' hands busy while working on articulation or language goals, you could try this adorable lift-the-flap, bird's nest craft! The eggs have articulation or language targets on them. Students can practice each target while they color, cut, and then glue to get more trials in!
Spring Flower Describing Activities – Free Download
I have used this (FREE!) flower describing communication board in two ways:
Show & Tell Activity: For speech groups, gather a variety of flowers (I use fake flowers, but you can also use real ones) and preview the describing vocabulary before having each student select his/her own flower to tell the group about!
Pretend Flower Shop Activity: You can have students "order" a flower using describing words from a student pretending to be the shop owner. You can even incorporate pretend payment if you'd like! This is a great way to target describing words, social skills, and pretend play skills.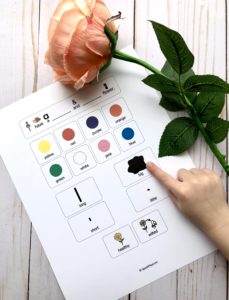 You can grab this topic board for free in my TpT shop by clicking HERE!
Favorite Things about Spring Activity
I love to start a season with a fun, getting-to-know-you activity that is errorless. Just because there are no "right" answers, doesn't mean there aren't tons of opportunities to practice speech & language skills! (social skills, spring vocabulary, turn-taking)
This Spring "Favorite Things Booklet" is a fun activity that encourages sharing opinions with peers for students who benefit from visual choices. (Plus, it can be differentiated for many levels, making it perfect for speech groups!)
In this spring speech and language activity, students fill in five pages about their favorite spring things (like spring activity, treat, baby animal, etc.) by gluing in a picture or by writing and drawing. Some students might be generating their own ideas while others are using visual choices. They can share their answers with the group or compare with a friend.
RELATED: My Favorite Things about My Mom Activity (for Mother's Day!)
Spring Scavenger Hunt
Head outside to practice some spring vocabulary! You could also preview the vocabulary by making a collage beforehand if you'd like. I have a visual for a simple scavenger hunt that I used with my daughter a couple of years ago (I never tried this particular scavenger hunt with students, but feel free to use it if you think it would help with your caseload!)
RELATED: Summer Speech-Language Activities 
Practice Spring WH- Questions for Speech Therapy
Do you feel like you are always targeting Wh- Questions? You can shake things up by using some spring-themed WH questions with your students!
I made these Spring WH- question cards that include lots of visuals to help your students with comprehension of both the question and of the answer choices. (There's also a BOOM Cards version here)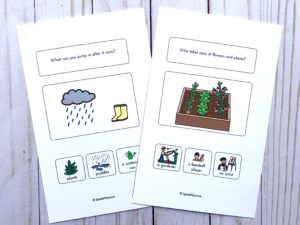 I like to use this FREE Wh- Types Chart to teach (and prompt) the different types of Wh- Questions.
RELATED: Using Visuals to Teach WH- Questions
Use Easter Eggs to Target Speech Therapy Goals
These inexpensive spring staples can help make some more "typical" speech therapy activities fun! To target language goals, have your students hide a few eggs and then guide you with their words to find the eggs. Or you can put small objects in the eggs and have your students try to guess what is in the egg – based on your description. To target articulation goals, put target words inside the eggs.
Spring Interactive Books
I like interactive books because the moveable pieces keep little hands busy and attention on the book. They are also nice in that the student can see how many pages/questions are left since they move a piece from the side to the page until they are out of pieces.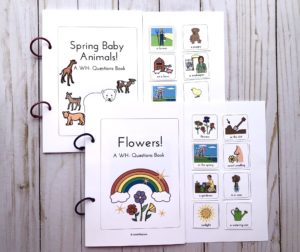 These spring-themed interactive books focus on teaching basic facts about flowers and baby animals while working on WH- questions.
Spring Compare and Contrast Activity
If you are looking for a way to work on more complex language skills, comparing and contrasting is a great activity! You can help your students understand multiple features of two spring vocabulary words (features, function, class, etc.). Plus, you can help them practice using more complex language to explain the similarities and differences by organizing their thoughts in a Venn diagram. Don't forget to teach them key words and sentence structures to use when explaining their thoughts.
Spring Language Bingo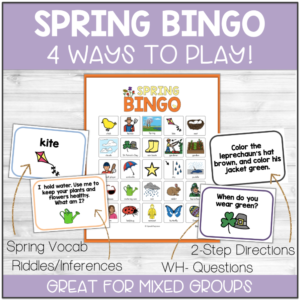 This Bingo game can work for 1:1 sessions or small groups. You can choose whether you focus on spring vocab (kind of like playing Zingo with a spring theme), riddles/inferences, or WH- questions. The game uses the same WH- questions as the cards above, but makes it more challenging because the field of choices is larger.
There is even an option to print black and white boards that students can color in to mark their spaces. The "two-step directions" calling cards are made to go with these black and white boards. You can find Spring Bingo here.
Spring Category Sorting
Want to dive deeper when working on spring vocabulary? Try having students sort spring items into categories. You can have students use these sorting mats to work on spring-themed sorting and vocabulary!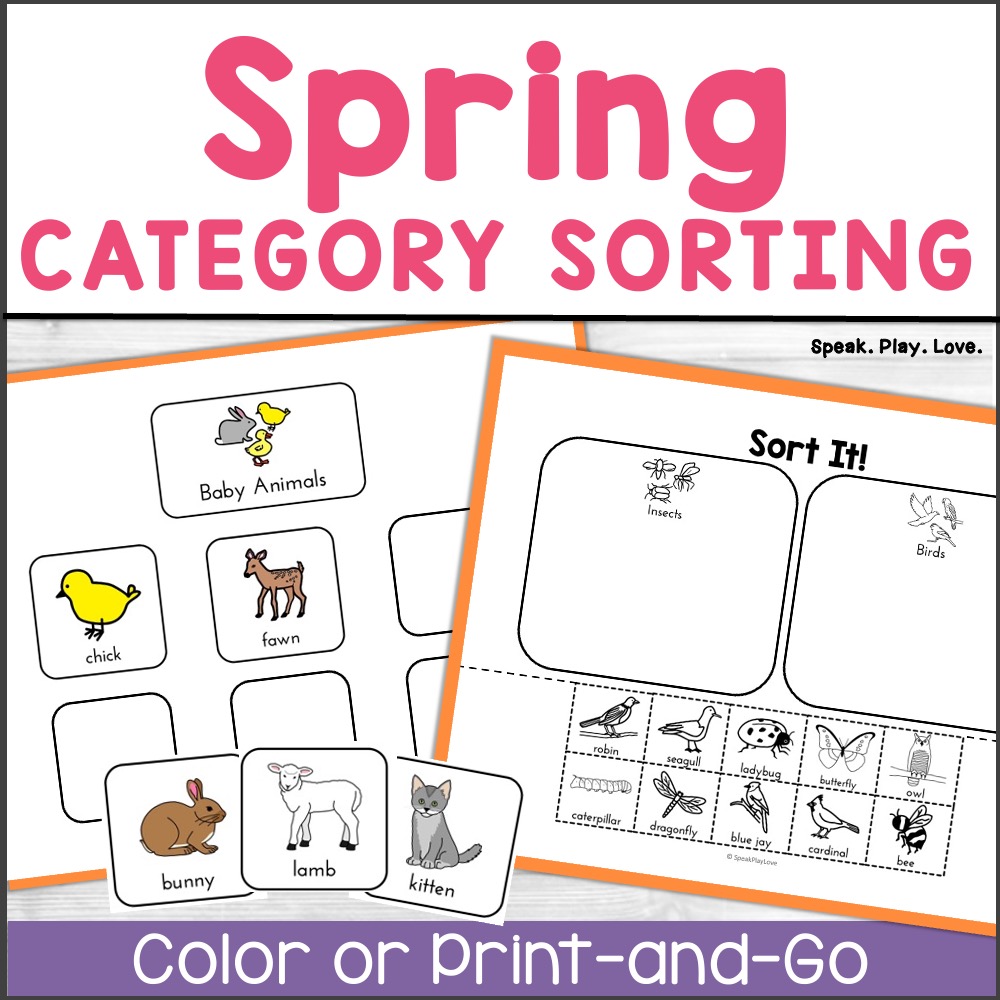 Spring Articulation Activity
I can't leave out articulation activities in my list of speech therapy activities! This set of Spring BOOM Cards is a fun way to work on articulation drills!
I hope some of these activity ideas will work for your caseload too!
Looking for a bundle of some of these spring speech therapy activities at a discount?
Here's one for language therapy: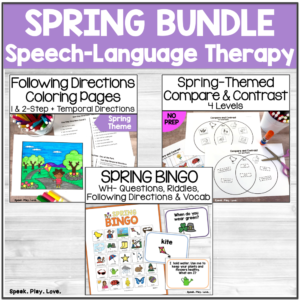 Here's a bundle for early communicators:
And here's an Early Language MEGA Bundle full of both seasonal and non-seasonal activities: