Spring Speech Therapy Activities + Free Printable!
Spring is in the air! If you are looking for some spring speech therapy activities, here are a few ideas to get you started. These activities include lots of visuals, so they are particularly good for students on the autism spectrum, non-readers, or non-verbal/minimally verbal students!
This post contains affiliate links, which means we could receive a commission if you click a link and purchase something that we have recommended.
Spring Flower Describing Activities
I have used this (FREE!) flower describing communication board in two ways:
Show & Tell Activity: For a speech groups, gather a variety of flowers (I use fake flowers, but you can also use real ones) and preview the describing vocabulary before having each student select his/her own flower to tell the group about!
Pretend Flower Shop Activity: You can have students "order" a flower using describing words from a student pretending to be the shop owner. You can even incorporate pretend "payment" if you'd like! This is a great way to target describing words, social skills, and pretend play skills.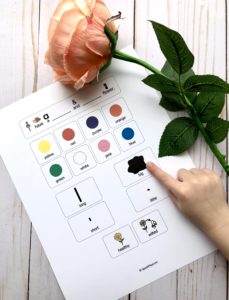 You can grab this topic board for free in my TpT shop by clicking HERE!
Favorite Things about Spring Activity
I love to start a season with a fun, getting-to-know you activity that is errorless. Just because there are no "right" answers, doesn't mean there aren't tons of opportunities to practice speech & language skills! (social skills, spring vocabulary, turn taking)
This Spring "Favorite Things Booklet" is a fun activity that encourages sharing opinions with peers for students who benefit from visual choices. (Plus, it can be differentiated for many levels, making it perfect for speech groups!)
In this spring speech and language activity, students fill in five pages about their favorite spring things (like spring activity, treat, baby animal, etc.) by gluing in a picture or by writing and drawing. Some students might be generating their own ideas while others are using visual choices. They can share their answers with the group or compare with a friend.
Spring Scavenger Hunt
Head outside to practice some spring vocabulary! You could also preview the vocabulary by making a collage beforehand if you'd like. I have a visual for a simple scavenger hunt that I used with my daughter a couple of years ago (I never tried this particular scavenger hunt with students, but feel free to grab it here if you think it would help with your caseload!)
Personally, I think the toughest part of being an SLP is the paperwork. I recently heard about Double-Time Docs – it's a way to cut down dramatically on your report-writing time while still generating detailed, high-quality evaluation reports. You can read more about it here.
Practice Spring WH- Questions
Do you feel like you are always working on WH- questions? You can shake things up a bit with some spring-themed WH- question task cards or Spring Interactive Books with WH- Questions.
(Pssst. . .  I have BOOM Cards versions of the Spring WH Questions and of the Flower Interactive Book and Baby Animals Interactive book!)
RELATED READ: Using Visuals to Teach WH- Questions
Spring Speech Therapy Craft
I love a good craft! I tend to come across a lot of "roll-and-draw" activities (where you roll a dice to see what part to draw on next), but since some of my students have limited fine motor skills, gluing on pieces works much better for me!
This Roll-a-Chick Craft works for small group speech therapy or individual sessions. You can have students work on requesting a turn, passing the dice, stating the number and piece they rolled and requesting any materials they need!
I hope some of these activity ideas will work for your caseload too!
Looking for a bundle of all the above spring speech therapy activities (plus spring-themed object function cards)? Click HERE.
Or if you want a whole year of printable activities, I have a year-long language bundle here!
And . . . some there's a spring-themed BOOM Cards Bundle too!