Hello! I'm Margaret Feldmann.  I am a mom to an adorable toddler as well as a pediatric Speech and Language Pathologist.
SpeakPlayLove.com is a place where you can find fun, language-based activities to try at home as well as general speech-language therapy tips for parents to increase language development in toddlers and preschoolers.
I also hope that this website is helpful for parents of special needs children and for fellow SLPs!
In the Activities Section, I provide tips about increasing language development with each featured activity. These tips cover several levels of development, so they are for kids with typical language development as well as late talkers and non-verbal children.
This website is in no way a substitute for consulting with a professional in-person. If you have any concerns about your child's development, I strongly urge you to speak to your child's pediatrician and/or your local Early Intervention Program. You can read my full disclosure policy here.
Please note that even if you have a Speech-Language Pathologist that your child sees every week, the person who is interacting with your child 99% of the time is you! So learning how to incorporate speech and language strategies into your everyday life is so  important.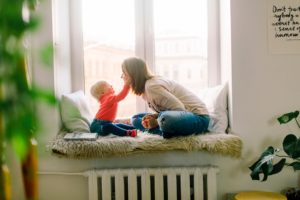 The technical stuff:
M.S. in Communication Disorders from Northeastern University
M.A.T. from Agnes Scott College
B.A. Oglethorpe University
Certificate of Clinical Competence (CCC's) from American Speech-Language Hearing Association (ASHA)
Licensed to practice Speech-Language Pathology in the state of New York
Readers: I would love to hear from you about activities that you use at home to keep your little ones occupied. If you send me an email with your activity and any pictures you would like to share (pictures are totally optional), I'll include your idea in an upcoming post (giving you credit of course!). Plus, I will add in my tips for language development. Can't wait to hear from you!
What is an SLP?
A Speech-Language Pathologist (SLP) holds a Master's degree and is trained to help adults and children with speaking, language, and swallowing disorders.
Often people think about speech therapists helping with "speech" or how children produce sounds (for example when a child says "wabbit" instead of rabbit) or help with stuttering. We do lots of that – BUT the focus of this website is on language development.
So what is language? It's a whole system of words and symbols that are used for communication. Language covers words, sentences, body language, sign language, gestures, and so much more!
SLPs look at language from two sides
1) How your child understands and processes language
If your child does not have any hearing problems, but never seems be "listening" to you, he might have difficulty processing what you are saying. How a child understands/processes language is referred to as Receptive Language.
2) How your child expresses language
This covers any way that your child communicates information to others – from body language, sign language, gestures, using an alternative/augmentative communication device, and of course talking! This is referred to as Expressive Language.
If you are new to this site, a great place to start is with the Basics.
Or with one of our most popular posts:
How You Talk to Your Toddler Matters
9 Tips to Get Your Toddler Talking
12 Songs for Language Development
Best Toys for Language Development
Please contact me if you have any questions or are looking to collaborate at margaret@speakplaylove.com
Thanks for reading!!
Margaret Feldmann, M.S., CCC-SLP