Interactive Songs for Speech Therapy + Free Printable
Using interactive songs in speech therapy with little ones (early intervention/preschool age) is a fun way to work on language development. And trust me, the kids won't care if you are a terrible singer (I know from experience – bad singing runs in my family). Plus, you don't need any fancy equipment or bulky toys to enjoy all the benefits of using music in your speech therapy sessions!
If you are working with pre-talkers or any client who would benefit from visuals, you can grab my free, printable 12 song choice cards here. Just print and laminate (or put in a mini photo book). Then, you can let your client choose which song he or she wants to hear!
(I also have a full set of 48 Song Choice Cards + Communication Boards in my Teacher's Pay Teacher's store.)

Interactive Songs for Speech Therapy:
This post contains affiliate links, which means we could receive a commission if you click a link and purchase something that we have recommended.
Ring Around the Rosy
This is a perfect song for working on first words! Try singing the song while you hold hands and walk in a circle (It's fine if there's only the two of you) and of course fall down at the end.
Do this 2-3 times to familiarize your client with the game and song. Then, once the child knows what is coming and is looking forward to the falling down part, use an Expectant Pause before you say, "down" and fall. That will give him/her the chance to say "down" so that s/he can get to the fun part! (You can also have the client use sign language or other AAC if that is more appropriate.)

The Hokey Pokey
The Hokey Pokey is great for combining gross motor movement (i.e. Getting the wiggles out!) and for learning body parts. You can keep it as a receptive task by having the student put the correct body part "in" (with or without a model) or you can have the student tell you which body part to do next if you want to make it into an expressive task.
Hokey Pokey Lyrics:
You put your arm in,
You put your arm out,
You put your arm in,
And you shake it all about,
You do the hokey pokey
and you turn yourself around
That what it's all about. (Say while clapping)
Other verses:
foot or leg

head

whole self/body
The Wheels on the Bus for Speech Therapy

Love Love Love this one!
For clients working on imitation skills, you can work on imitating the actions that go along with each verse.
You can also use the expectant pause to have the student fill in a sound or action word such as "beep" or "up and down."
When that is mastered, you can make it more challenging by asking your student what should be next. And some kids can get really creative by making up new things that can happen on the bus! This is great for creativity and flexible thinking – as well as working on describing skills!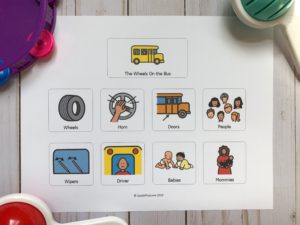 If You're Happy and You Know It
I like to use the version by Super Simple Songs (in the video below for reference). I learned the lyrics from the video but I like to sing it to promote more interaction between the therapist and the client.
This song teaches emotions and beginner gross body movements through actions.
To incorporate emotions, you can make an exaggerated happy/mad/scared/sleepy face for your client to copy. After the song, you can talk about different things or times that make you feel each of those emotions.
For younger students, focusing on following directions or imitation skills with the movements clap, stomp, and arms-up might be more appropriate.
Head, Shoulders, Knees, and Toes
This is another song that's perfect for learning body parts and imitation. I suggest slowing it way, way down as you sing until your client is successful, and then slowly speeding it up until it ends in a silly mess of pointing! It's sure to get the wiggles and the giggles out!
Twinkle Twinkle Little Star
This sweet, classic song is nice for working on imitation of gestures. See the video below if you want to learn the gestures.
You can also use the expectant pause with this one too once your client is familiar with the lyrics. Pause a the end of a phrase such as
Twinkle, Twinkle little . . . .(star)
How I wonder what you . . .(are)
Up above the world so . . . .(high)
Like a diamond in the . . . (sky)
RELATED READ: Using Visuals to Teach WH Questions
The Itsy Bitsy Spider: Music for Speech Therapy

Another slower song to get your student imitating your gestures – and singing along!
Old MacDonald Had a Farm
This classic is one of my favorites! To start, you can work on animal sounds. Put in some pauses to see if your client can make the animal sound or copy the sound you make. As the child progresses, have him/her tell you which animal you should sing about next!
To include some visuals, you can try using animal toys or printed visuals to make choices or elicit language!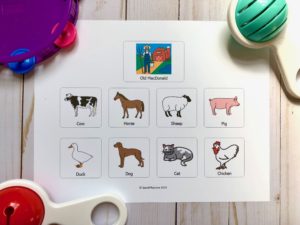 Row, Row, Row Your Boat
I like the version of this song that incorporates fun sounds – the more interactive the better! Once the student knows this one, it's great to use with the expectant pause or to elicit sounds after each verse.
Here are the lyrics:
Row, row, row your boat
Gently down the stream
Merrily, merrily, merrily, merrily
Life is but a dream
Row, row, row your boat
Gently up the creek If you see a little mouse
Don't forget to squeak!
Row, row, row your boat
Gently down the stream If you see an alligator
Don't forget to scream!
Row, row, row your boat
Gently to the shore
If you see a lion
Don't forget to roar!
Row, row, row your boat
Gently to the beach
If you see a monkey
Don't forget to screech!
Interactive Songs Printables
Here's the link to the FREE set of 12 song choice cards or the full set of 48 Song Choice Cards + Communication Boards in my Teachers Pay Teachers store! Hope this gave you some fun ideas for using music in speech therapy!