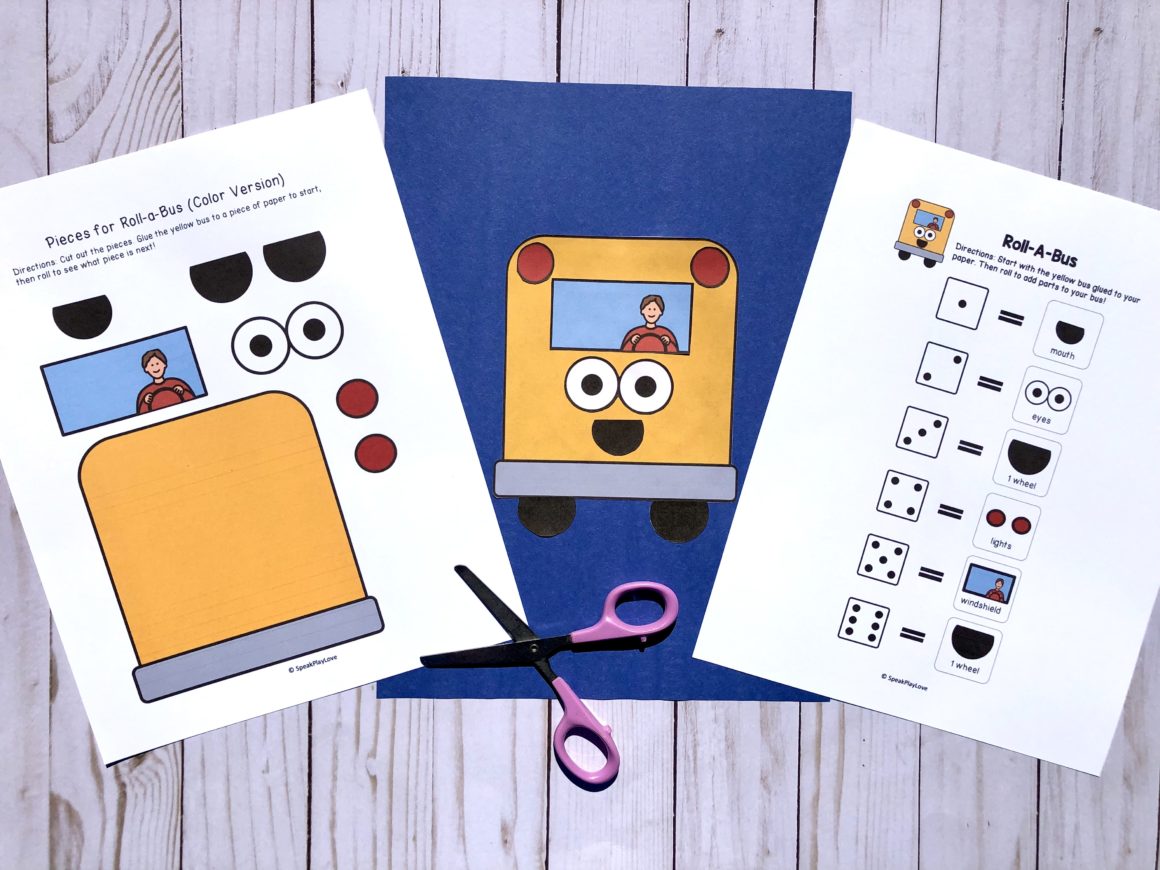 Back to School Speech Therapy Activities – Plus a Free Activity
Are you starting to think about Back-to-School speech therapy activities for your students? The activities I'm going to talk about include lots of visuals, so they are particularly good for preschoolers, students on the autism spectrum, and non-verbal/minimally verbal students who use AAC!
You could use some of these activities as First Day of speech therapy activities and use the rest throughout the first month of school.
RELATED READ: Back-to-School Speech-Language Activities for Elementary Students
This post contains affiliate links, which means we could receive a commission if you click a link and purchase something that we have recommended.
Back-to-School Speech Therapy Activities:
School-Themed Interactive Books
I like interactive books because the moveable pieces keep little hands busy and attention on the book. They are also nice in that the student can see how many pages/questions are left since they move a piece from the side to the page until they are out of pieces.
"My School Things" interactive book is a nice introduction to school object function questions. Each page features a different common school object and talks about its use. The pictures are not an exact match but have plenty of visual clues to help students be successful. (Also available on Boom Cards)
"Maya's First Day of School" interactive book follows Maya and introduces school people, places, and things. Each page includes a Wh- question with a visual choice. (Here's the Boom Cards version.)
"My Favorite Things about School" Activity – Free Download (A great first day of speech therapy activity)
I love to start a new year with a fun, get-to-know-you activity that is errorless. Just because there are no "right" answers, doesn't mean there aren't tons of opportunities to practice language skills! (social skills, school vocabulary, turn-taking, etc.)
This School Favorite Things Booklet encourages sharing opinions with peers for students who benefit from visual choices. (Plus, it can be differentiated for many levels, making it perfect for speech groups!)
In this activity, students fill in five pages about their favorite school things (like favorite playground equipment, subject, school supply, art activity,  and specials class) by gluing in a picture or by writing and drawing. Some students might be generating their own ideas while others are using visual choices. They can share their answers with the group or compare them with a friend's answers.
You can get "My Favorite Things about School" for FREE in my TpT store by clicking here!
Back-to-School Speech Therapy Craft
I love to shake things up with a good craft! I tend to come across a lot of "roll-and-draw" activities (where you roll a dice to see what part to draw on next), but since some of my students have limited fine motor skills, gluing on pieces works much better for me! (I made a series of roll-and-glue crafts just for that reason.)

This Roll-a-Bus Craft is great for small group speech therapy or individual sessions. You can have students work on requesting a turn, passing the dice, stating the number and piece they rolled and requesting any materials they need!
RELATED: Fall Speech Therapy Activities
Pete the Cat: Rocking in My School Shoes
Who doesn't love Pete the Cat!? I like this one because it focuses on places at school. It repeatedly presents the question, "Where is Pete going?"
The places targeted include the bus, library, lunchroom, playground, and classroom.
Action words targeted include reading, eating, playing, singing, painting, adding, and writing.
You can find the book on Amazon here (affiliate link)
Free Back-to-School Activity: School Objects Scavenger Hunt
Luckily, school objects are all around – you might want to strategically place some of the items so students are not rummaging through your stuff. You can start off by previewing the vocabulary on your list. Then the search is on!
If you have a speech room where you can dim the lights, I love to add a flashlight into the mix!
You can grab this Free School Scavenger Hunt here!
School Vocabulary + Object Function Questions
One way to work on school-themed vocabulary is to sort summer items by categories. You can have students use these sorting mats to work on school-themed sorting and vocabulary!
For students working on "what" questions, function of objects, and school vocab, these School Object Function question cards are a simple, fun way to target those objectives. (Also available in a Boom Cards version.)
School-Themed WH- Questions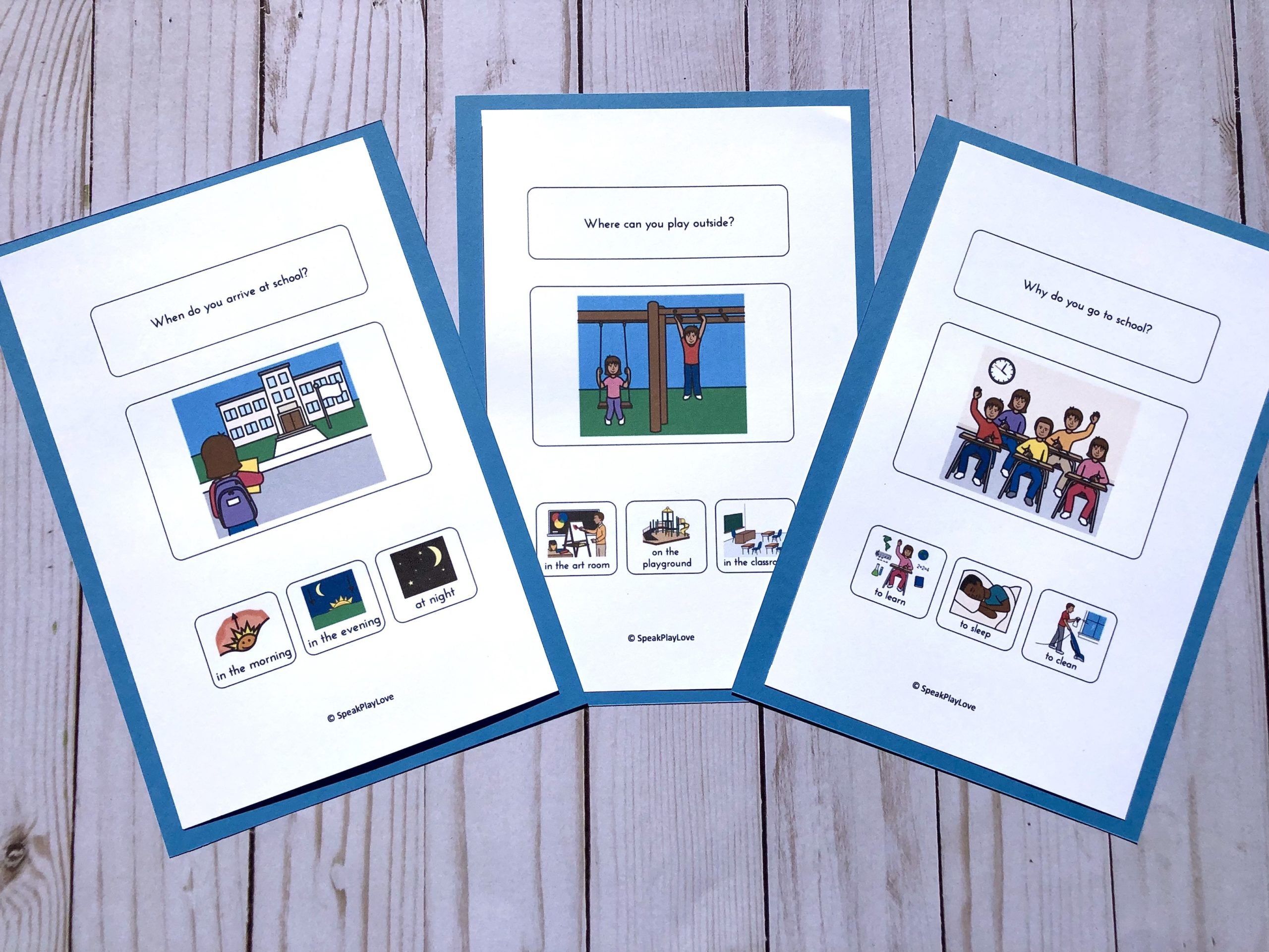 Let's face it, you are probably going to be targeting Wh- questions A LOT this year. A great way to target Wh- questions and teach about school people, places, and things is with these school-themed Wh- Question Cards. They include lots of visuals to help your students with comprehension of both the question and of the answer choices. (Here's the Boom Cards version.)

I like to use this FREE Wh- Types Chart to teach (and prompt) the different types of Wh- Questions.
RELATED: Using Visuals to Teach WH- Questions
RELATED: Fall Activities for Language Therapy
I hope some of these Back to School speech therapy activities will work for your caseload too!
Looking for a bundle of all the above back-to-school speech therapy activities at a discount?
Or if you want a whole year of seasonal and non-seasonal activities, I have an Early Language MEGA Bundle here at a BIG discount!