Back-to-School Speech-Language Activities for Elementary Students
Do you have elementary students with language goals on your caseload this year?  I've got some back-to-school Speech-Language activities for you (including a freebie) . . . and most are no-prep or low-prep!
(If you looking for back-to-school speech-language activities geared more toward early language skills for students who need lots of visuals, check out this article.)
This post contains affiliate links, which means we could receive a commission if you click a link and purchase something that we have recommended.
Back-to-School Speech-Language Activities:
Back-to-School Language BINGO
Games are always a fun way to get your students engaged and excited about coming to speech therapy! This Back-to-School Language BINGO game can work for 1:1 sessions, small groups, or whole class push-ins. You can choose whether you focus on school vocab (kind of like playing Zingo with a school theme), riddles/inferences, or WH- questions.
There is even an option to print black & white boards that students can color in to mark their spaces. The "two-step directions" calling cards are made to go with these black & white boards. You can find Back-to-School Language Bingo here.
RELATED: Using Visuals to Teach WH- Questions
Back-to-School Speech Therapy Books
Here are some fun, school-themed books to try in your speech therapy sessions:
RELATED: Children's Books about Speech Disorders
Free Back-to-School Speech-Language Activity: School Scavenger Hunt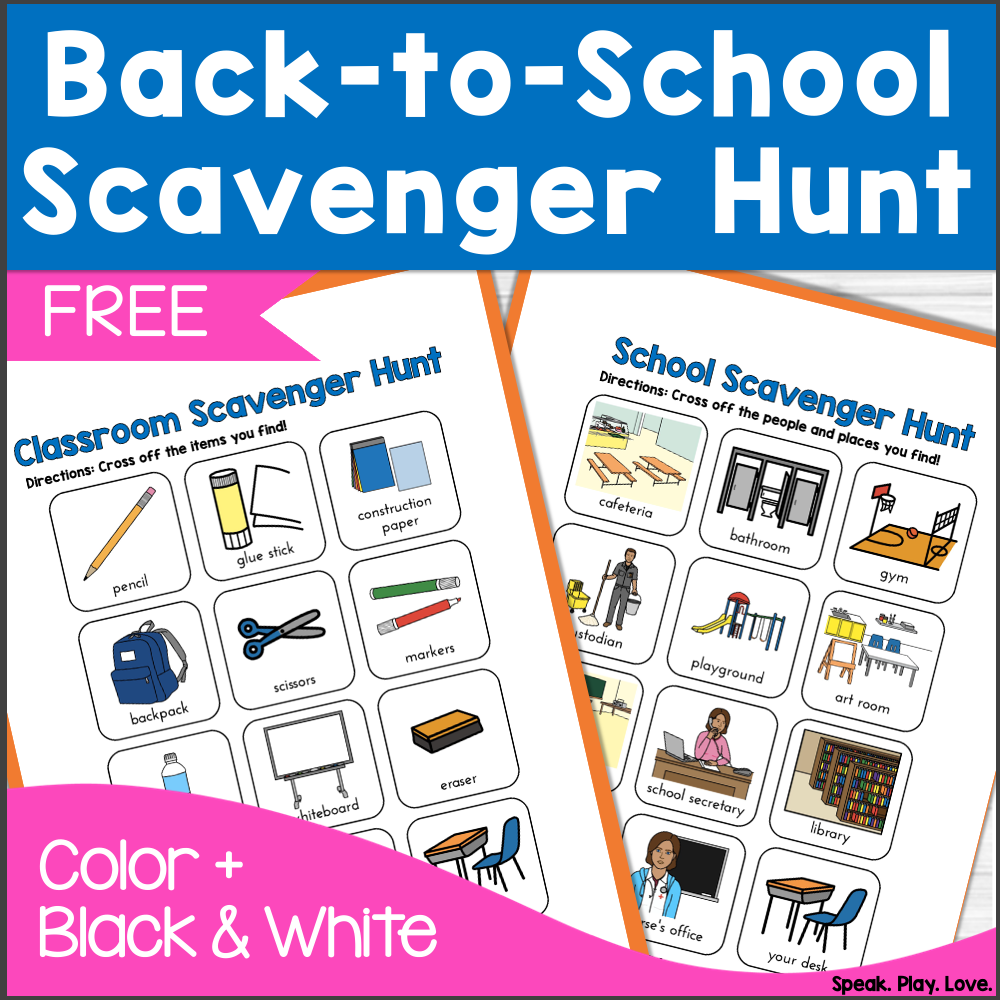 This free back-to-school scavenger hunt is perfect to work on vocabulary for school objects or find people and places around the school! You could also pair it with a school-themed book or video for more practice.
Here's How to Use this Back-to-School Scavenger Hunt:
1. Preview Vocabulary: You can preview by simply labeling the pictures, or you can have students color in the black and white version.
2. Classroom Scavenger Hunt: Have your students explore their own classroom to find these common school objects! Students can cross off items they find. (If you have a 1:1 student or small group, using flashlights to find the school items in your speech room can be fun!)
3. School Scavenger Hunt: Take students around the school to locate these people and places. It is a great opportunity to say hi to different people in the school to practice social skills!
School Coloring Activities
Coloring can be a calming activity for a lot of elementary students. I like to check out my local Dollar Tree for school-themed coloring books or print out some themed coloring sheets.
During a coloring activity with early communicators, you can work on school vocabulary, requesting colors, and expanding utterances. 
For students working on auditory comprehension skills, you can give coloring directions verbally – from one-step directions all the way up to multiple steps with qualifiers! (If you want a print-and-go option, check out these school-themed following directions coloring pages)
RELATED: Back-to-School Activities with Lots of Visuals
School-Themed Compare/Contrast Activity
If you are looking for a way to work on more complex language skills, comparing and contrasting is a great activity! You can help your students understand multiple features of two school vocabulary words (features, function, class, etc.) using a Venn diagram. Just draw it out on a mini-whiteboard or a piece of paper (or grab this cut-and-glue option)!
Some ideas include:
pencil vs. crayons
teacher vs. principal
classroom vs. cafeteria
Plus, you can help them practice using more complex language to explain the similarities and differences by organizing their thoughts in a Venn diagram. Don't forget to teach them key words and sentence structures to use when explaining their thoughts.
You can get the print-and-go Back-t0-School Compare and Contrast Activity here.
Back-to-School Articulation Practice
I can't leave out articulation activities in my list of back-to-school speech therapy activities! Spice up typical practice with a school-themed set of BOOM Cards to work on those articulation drills!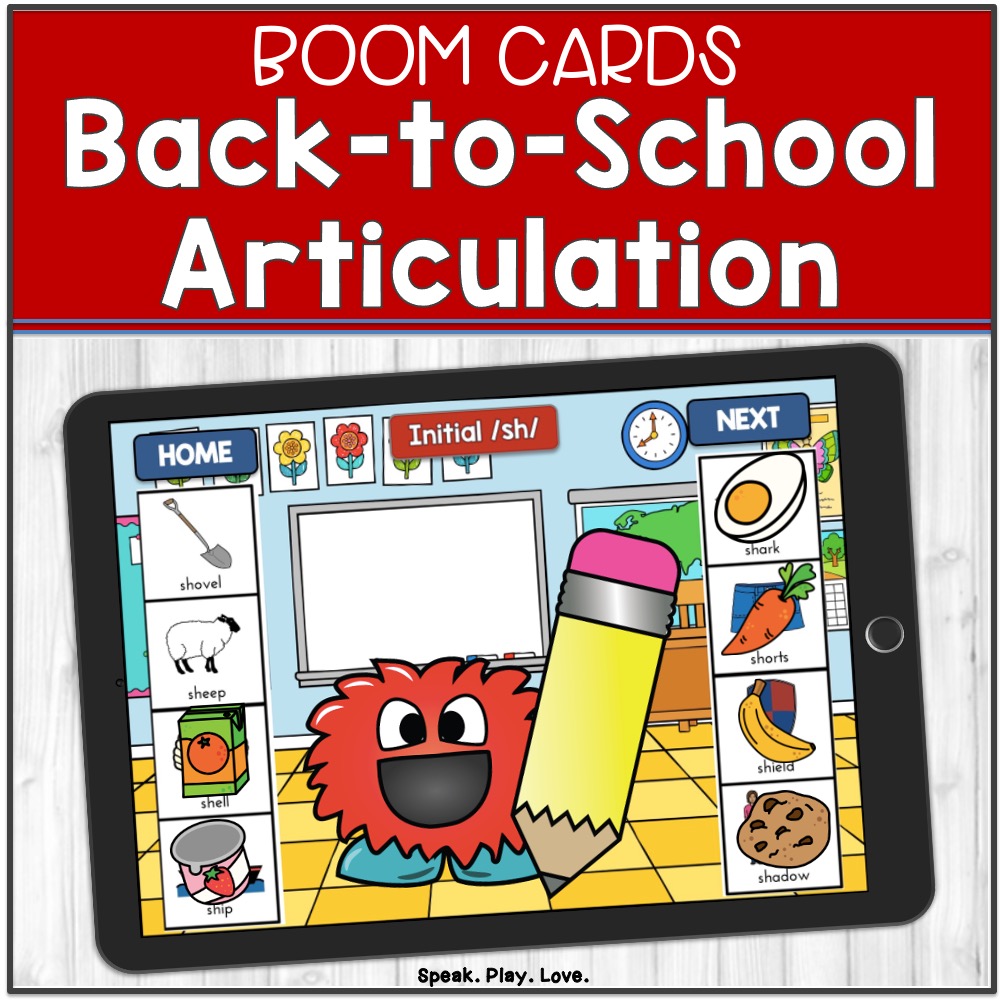 I hope these back-to-school speech-language activities get you started on a wonderful school year!
Looking for a bundle of some of these back-t0-school speech-language therapy activities at a discount?
Back-to-School Language Bundle: 
Or grab this Language Mega Bundle for back-to-school season + the rest of the year: