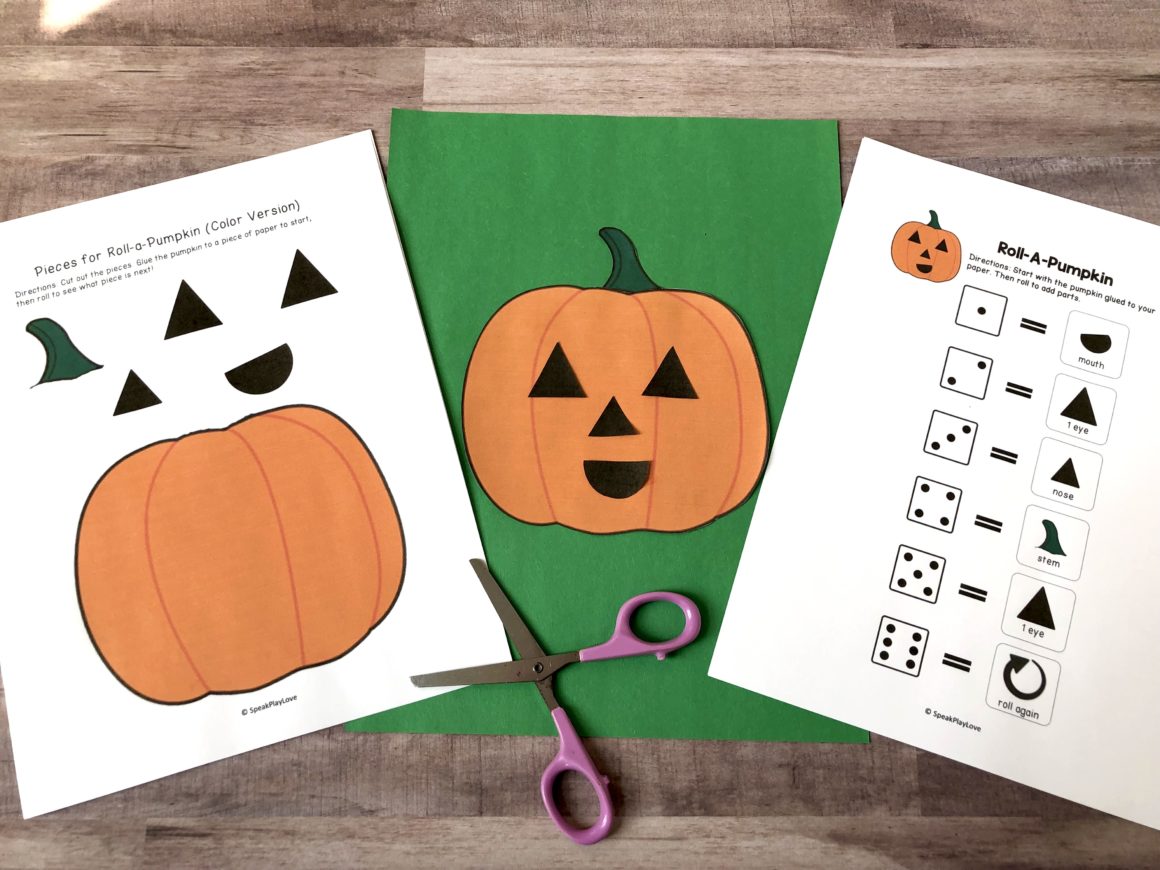 Pumpkin Speech Therapy Activities – Plus a Free Download
Do you love buying those mini-pumpkins as much as I do? When I went to Trader Joe's this year, they had tons of adorable mini-gourds too! It got me thinking about pumpkin speech therapy activities. Here are some ideas:
Pumpkin Speech Therapy Activity Ideas:
Pumpkin Speech Therapy Craft – 3D Pumpkin
This adorable 3D pumpkin craft reminds me of the mini-pumpkins from Trader Joe's: win-win! Plus students will love to take home the little pumpkin for carry-over!
It includes articulation targets and language targets (like categories, synonyms, irregular plurals, and more) on the sides of the pumpkins that you can work on as students color, cut, assemble and glue this craft.
Pumpkin and Gourd "Show and Tell" + Free Topic Board
First, load up on pumpkins and gourds at Trader Joe's – ha! (Is this activity really just an excuse to buy mini-pumpkins??)
In a speech group, go over some ways that the pumpkins and gourds are different (color, size, stem, texture, etc.)
Then have students select the pumpkin or gourd they want to show to the group. Have each student come to the front of the group and use describing words to show off their pick! Here's a free topic board with describing words for students to use in this activity.
RELATED: Fall Speech Therapy Activity Ideas
Pumpkin Craft for Speech Therapy
I love a good craft . . . and I love a good game! Wait a craft and game in one? Sign me up!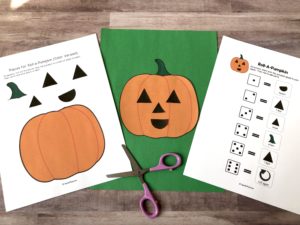 Roll-a-Pumpkin is a roll and glue activity. Often gluing is easier for students with minor fine motor challenges than a roll and draw activity.
You can have students work on requesting a turn, passing the dice, stating the number and piece they rolled and requesting any materials they need!
Cooking with Pumpkin in Speech Therapy
Do you get to do any cooking with your students? I know last year most cooking was on hold due to Covid, but it seems like some special education classrooms are getting back to cooking this year.
A speech group or a SPOT (speech-OT) group can be the perfect time to work with high-needs students in this type of activity.
You could try making a classic recipe like pumpkin pie or use a super-simple pumpkin muffins recipe.
Some things to keep in mind:
1. Use a simple recipe so that students can be as independent as possible.
2. Take the time to preview vocabulary and the cooking steps before you start.
3. If your students benefit from visuals or are non-readers, the use of visual recipes can be really helpful (I linked two visual recipes above)
4. Use all the senses, by talking about how things feel, smell, sound, look and of course taste! For students with limited sight or hearing, smell and touch can be key.
5. It might get a little messy. That's okay! But it's also a good idea to think ahead about how to limit making too much mess.
Read a Pumpkin Interactive Book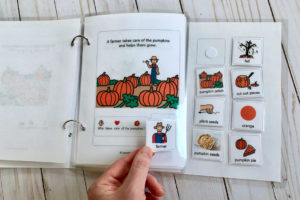 I love interactive books to keep little hands busy – this pumpkin interactive book also works on simple WH- questions!
RELATED: Using Visuals to Teach WH- Questions (plus free WH- Visual Aid)
You can find a bundle the pumpkin activities mentioned above here (except the 3D pumpkin):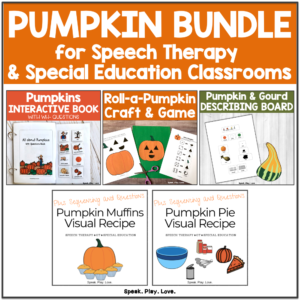 Grab the 3D Pumpkin Craft here: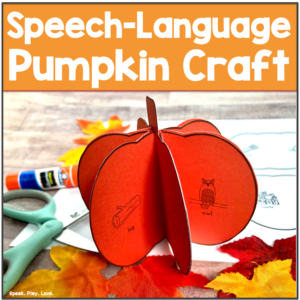 Do you have any go-to pumpkin-themed activities? Please share below in the comments!