Following Directions Speech Therapy Activities – Plus a Free Download
I know that a lot of my students have found coloring to be an engaging and calming activity. I also know that in one of my school-based positions, I had  A LOT of students working on auditory comprehension goals – so I was always on the lookout for following directions speech therapy activities to use!
Following Directions Speech Therapy Activities and Worksheets
So now I just create my own Following Directions Coloring Activities! I wanted something that included a range of directions including simple one-step directions, directions with 1-2 modifiers, 2-step directions, and temporal directions (e.g. first/then, before you X, color Y).
The first one I created was this "Around the House" set of coloring pages with directions for any time of the year. And now I am adding seasonal resources such as
Using a Following Directions Visual in Speech Therapy Sessions
Before starting an activity, I like to go over strategies for increasing auditory comprehension skills such as:
Get Ready to Listen

Still Body
Look at speaker

Repeat the directions to yourself or aloud
Visualize yourself doing the actions
Since these students have challenges with auditory comprehension, a visual can really help reinforce these ideas! (The Following Directions Visual Chart is in all of the activities above and in the freebie below.)
RELATED: Using Visuals to Teach WH- Questions
Free Following Directions Speech Therapy Activity
One of my most popular free downloads is this following directions coloring sheet. You can have it sent right to your email inbox by filling in the form below!
The coloring sheet is of a front yard scene, so you can use the activity any time of the year! (It's a sample from my larger Around the House Coloring Activity)
Free Following Directions Coloring Worksheet Includes:
"Strategies for Following Directions" Chart
One Coloring Page
10 One-Step Directions – Level 1 (e.g. "Color the door red.")
10 One-Step Directions – Level 2 (e.g. "Color the highest cloud gray.")
10 Two-Step Directions (e.g. "Color both of the pants blue and color the ball red.")
10 Two-Step Sequential/Temporal Directions (e.g. "Before you color the door red, color the roof brown.")
Hope you find these activities useful with your students!
You can Grab All of the Following Directions Coloring Activities here: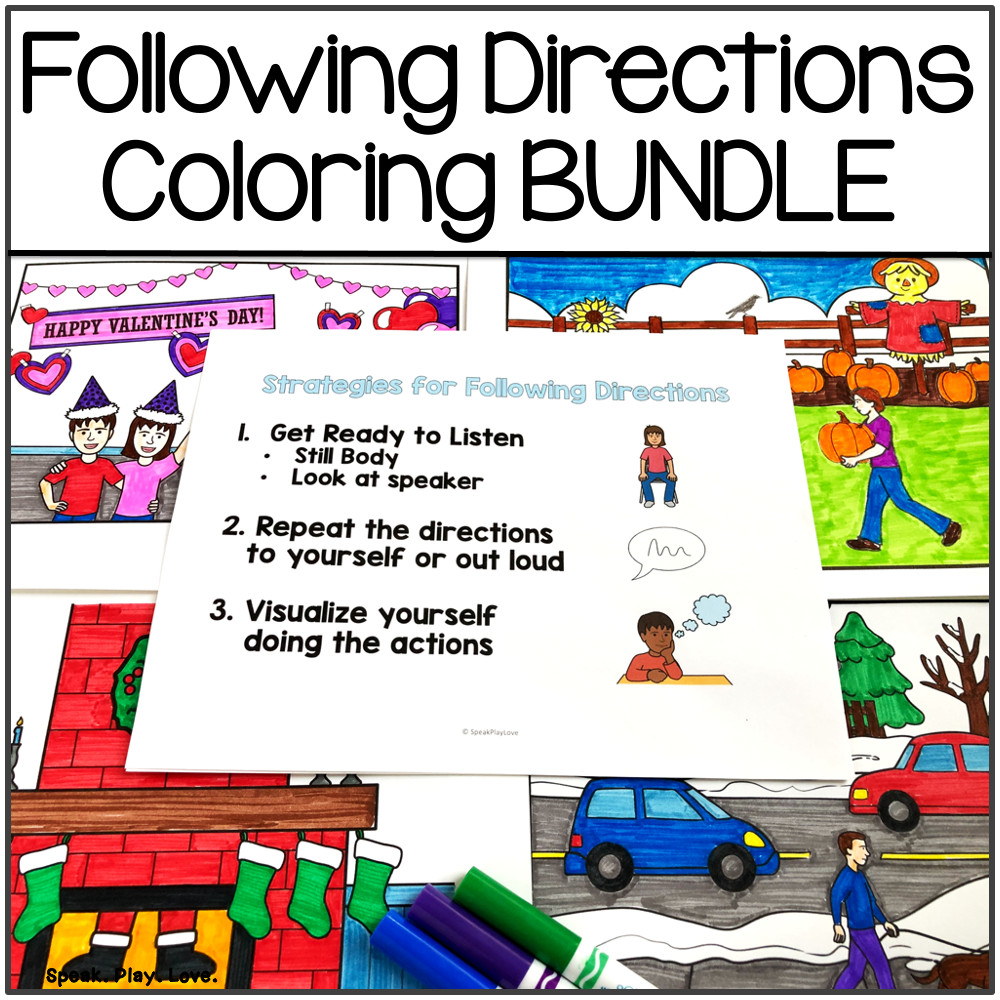 Or All the above plus more here: