Winter Speech Therapy Activities and Ideas
As a speech and language pathologist, there are a lot of fun themes to work on in the winter! Below I will share winter speech therapy activities, theme ideas, winter speech therapy books, and craft ideas.
These ideas are mostly for students who are working on language goals – from emergent communication (think pre-k or minimally verbal students) as well as students working on language therapy skills such as following directions, inferences, and WH- questions. There are also a couple of articulation activities on the list!
This post contains affiliate links, which means we could receive a commission if you click a link and purchase something that we have recommended.
Winter Speech Therapy Themes
There are a lot of winter-related themes you can center your therapy around this time of the year to shake things up!
snow
winter Sports (Hockey, skiing, basketball)
sledding
winter clothes
hot cocoa
bears/hibernation (see book ideas below)
penguins (see craft below)
snowmen (see book ideas below)
arctic animals/habitat
Winter Speech Therapy Activities:
Winter Crafts for Speech Therapy
I love a good craft! And I love a good game – wait a craft and game in one? Sign me up!
Roll-a-Penguin is a roll and glue activity. Gluing is often easier for students with minor fine motor challenges than a roll and draw activity.
Whether you use this in a small group or an individual session, you can have students work on requesting a turn, passing the dice, stating the number and piece they rolled, and requesting any materials they need!
This Yeti is leaving footprints all over the snow!! Students can work on their targets as they color, cut, assemble, and glue this craft. (Lots of opportunities for repetition!)
It includes articulation targets and language targets (like categories, synonyms, irregular plurals, and more) on the footprints.
Plus students will love to take home this winter speech therapy craft for carry-over!
Winter Favorite Things Activity
Who doesn't love talking about their favorite things?
This "Winter Favorite Things" booklet is a fun activity that encourages sharing opinions with peers for students who benefit from visual choices. (Plus, it can be differentiated, making it perfect for speech groups!)
In this winter speech and language activity, students fill in five pages about their favorite winter things (i.e. winter food, drink, activity, clothes, and treat) by gluing in a picture or by writing and drawing. Some students might be generating their own ideas while others are using visual choices. They can share their answers with the group or compare answers with a friend.
Winter Speech Therapy Books
Bear-Themed Books:
Snowman-Themed Books:
Snow-Themed Books:
RELATED: Using Bear Sees Colors in Speech Therapy
Winter-Themed Coloring Pages
Coloring can be a very motivating (and calming) activity for a lot of students. I like to check out my local dollar tree for coloring books or print out something that can with the student's needs.
During a coloring activity with early communicators, you can work on winter vocabulary, requesting colors, and expanding utterances.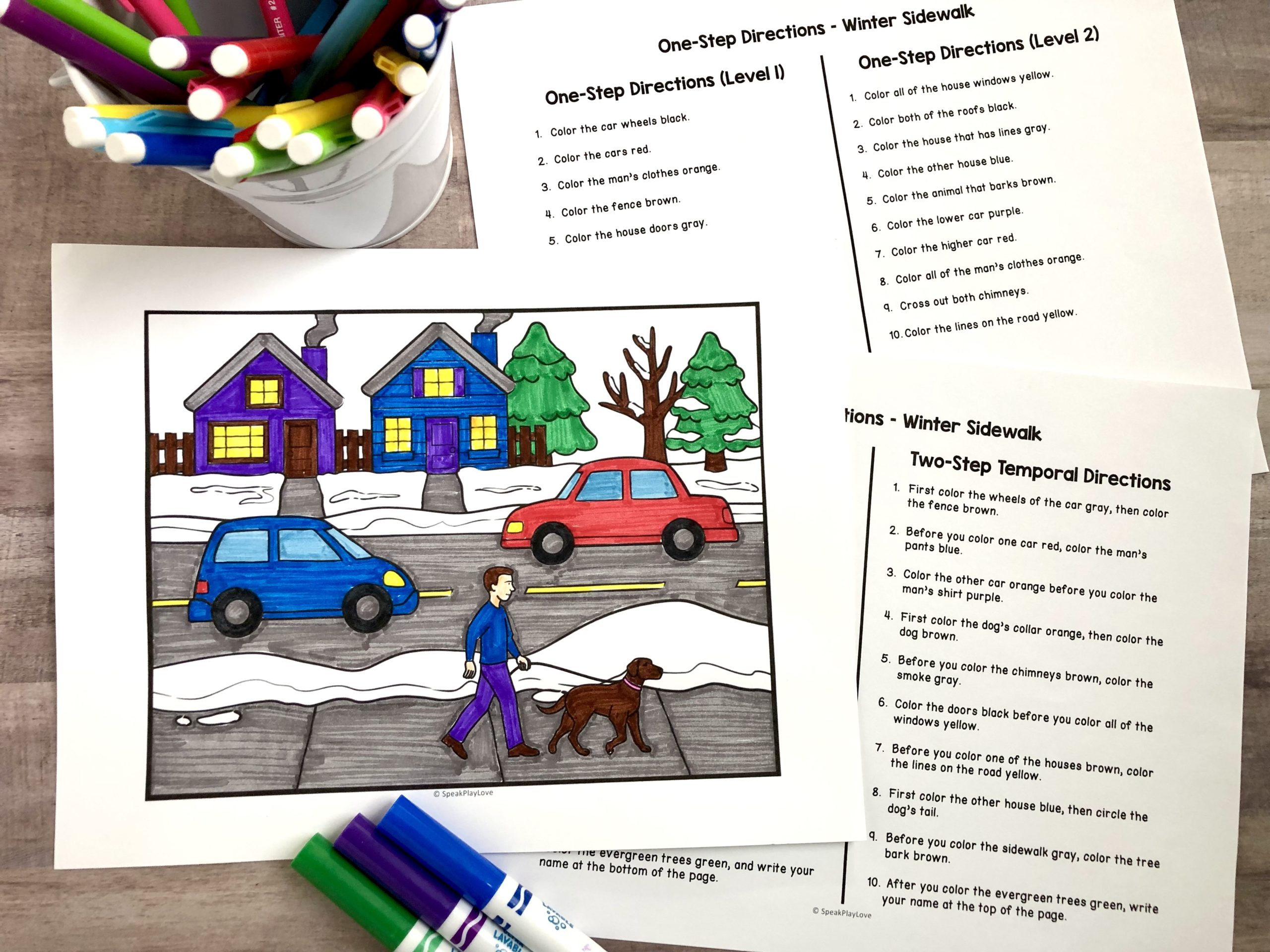 For students who are working on auditory comprehension, you can use winter-themed coloring sheets paired with directions at their skill level. If you want a print-and-go version of coloring pages and directions, check out the set pictured above.
Winter Following Directions
If you prefer a no-print option for working on following 2-step directions with your speech therapy students, these Winter Following Directions Boom Cards are for you!
Students listen to a 2-step direction (each card includes audio) and then drag the pictures to create a scene. Scenes include Winter Woodland, Getting Dressed for Winter, and Build-a-Snow-Globe.
RELATED: Valentine's Day Speech and Language Activities 
Winter WH- Questions for Speech Therapy
Do you feel like you are always targeting Wh- Questions? You can shake things up by using some winter-themed WH questions with your students!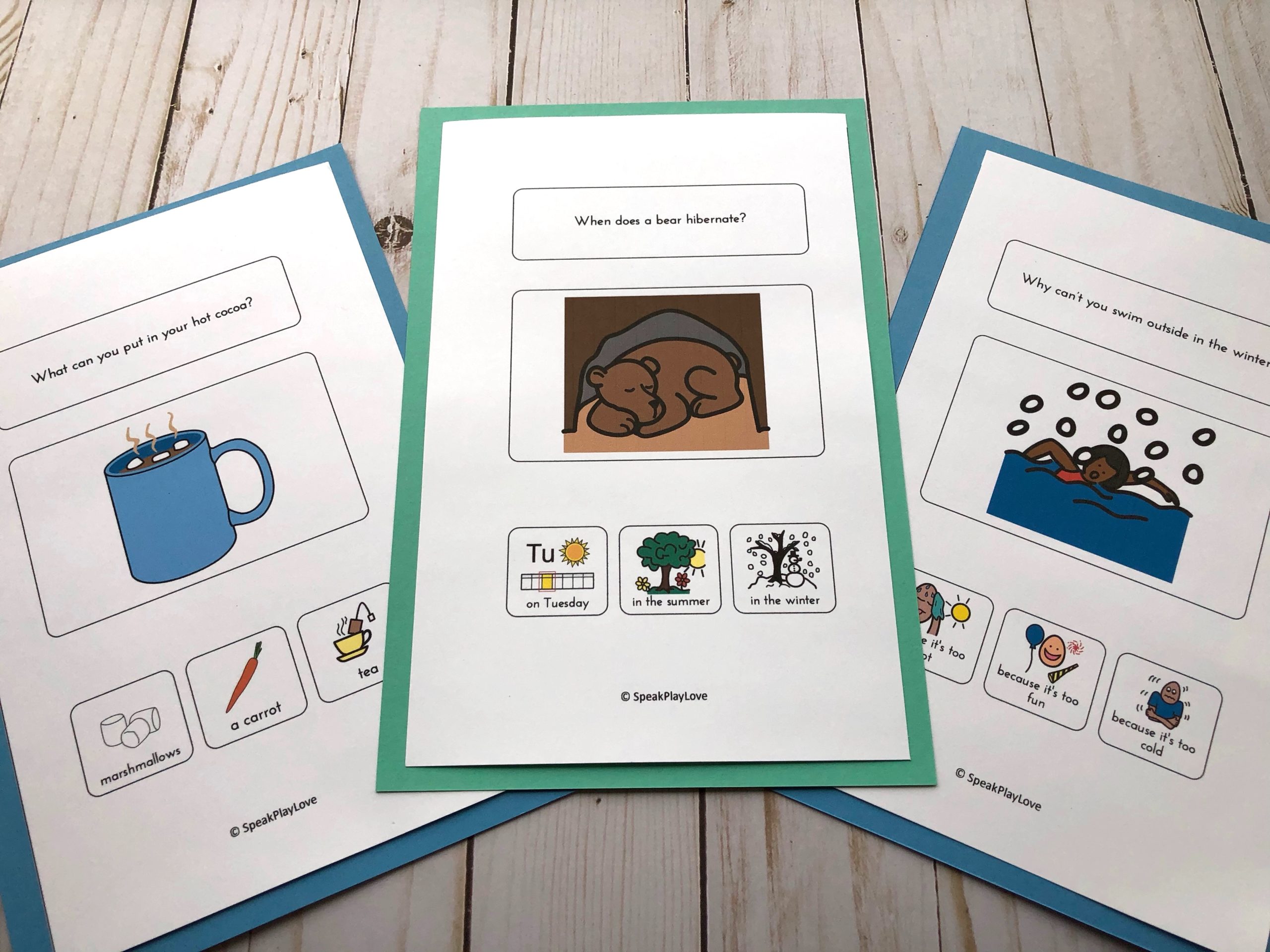 I made these winter WH- question cards that include lots of visuals to help your students with comprehension of both the question and of the answer choices. (There's also a BOOM Cards version here)
I like to use this FREE Wh- Types Chart to teach (and prompt) the different types of Wh- Questions.
For students who need slightly less visual support, these WH- Questions Winter Scenes are perfect for working on who, what, when, where, and why questions!
RELATED: Using Visuals to Teach WH- Questions
Winter Language Bingo
This Winter Bingo Game can work for 1:1 sessions or small groups. Choose whether you focus on winter vocab (kind of like playing Zingo with a winter theme), riddles/inferences, or WH- questions. The game uses the same WH- questions as the cards above, but makes it more challenging because the field of choices is larger.
There is even an option to print black and white boards that students can color in to mark their spaces. The "two-step directions" calling cards are made to go with these black and white boards. You can find Winter Bingo here.
Winter Category Sorting
Want to dive deeper when working on winter vocabulary? Try having students sort winter items into categories. You can have students use these sorting mats to work on winter-themed sorting and vocabulary!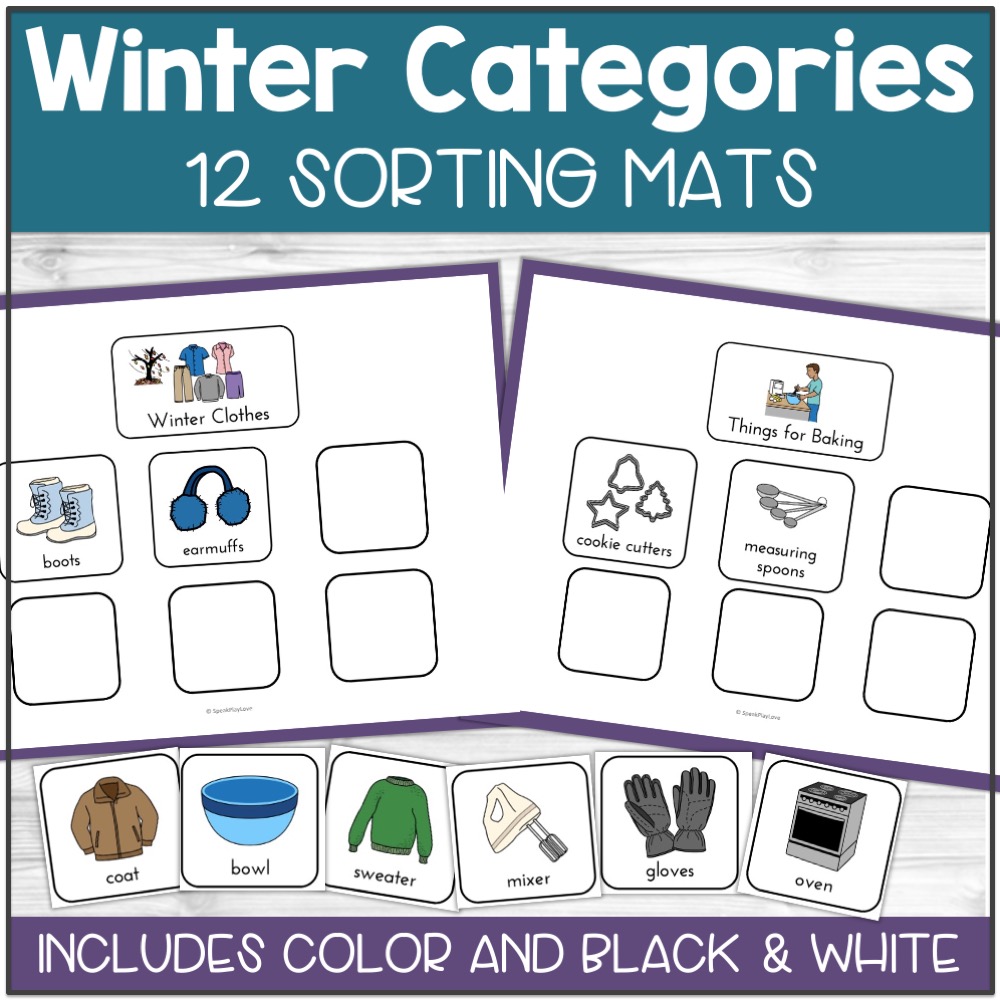 Winter Interactive Book
I like interactive books because the moveable pieces keep little hands busy and keep attention on the book. They are also nice in that the student can see how many pages/questions are left since they move a piece from the side to the page until they are out of pieces.
This winter-themed interactive book focuses on teaching basic facts about snow while working on WH- questions.
Winter Compare and Contrast
Comparing and contrasting is a great language activity. It helps students understand vocabulary on a deeper level, and can be used to work on expanding utterances to explain the similarities and differences.
This winter compare and contrast activity is no-prep and includes four levels (including visuals for non-readers and those who benefit from the use of visuals for comprehension). There is a BOOM Cards version of this one too!
Winter Articulation Practice
Spice up typical articulation practice with a Winter-themed set of BOOM Cards where students "feed the Yetis" to work on those articulation drills!
I hope some of these winter speech therapy activities and ideas will work for your caseload too!
Looking for a bundle of some of these winter speech therapy activities at a discount?
Here's a bundle for language therapy:
Here's a bundle for early communicators: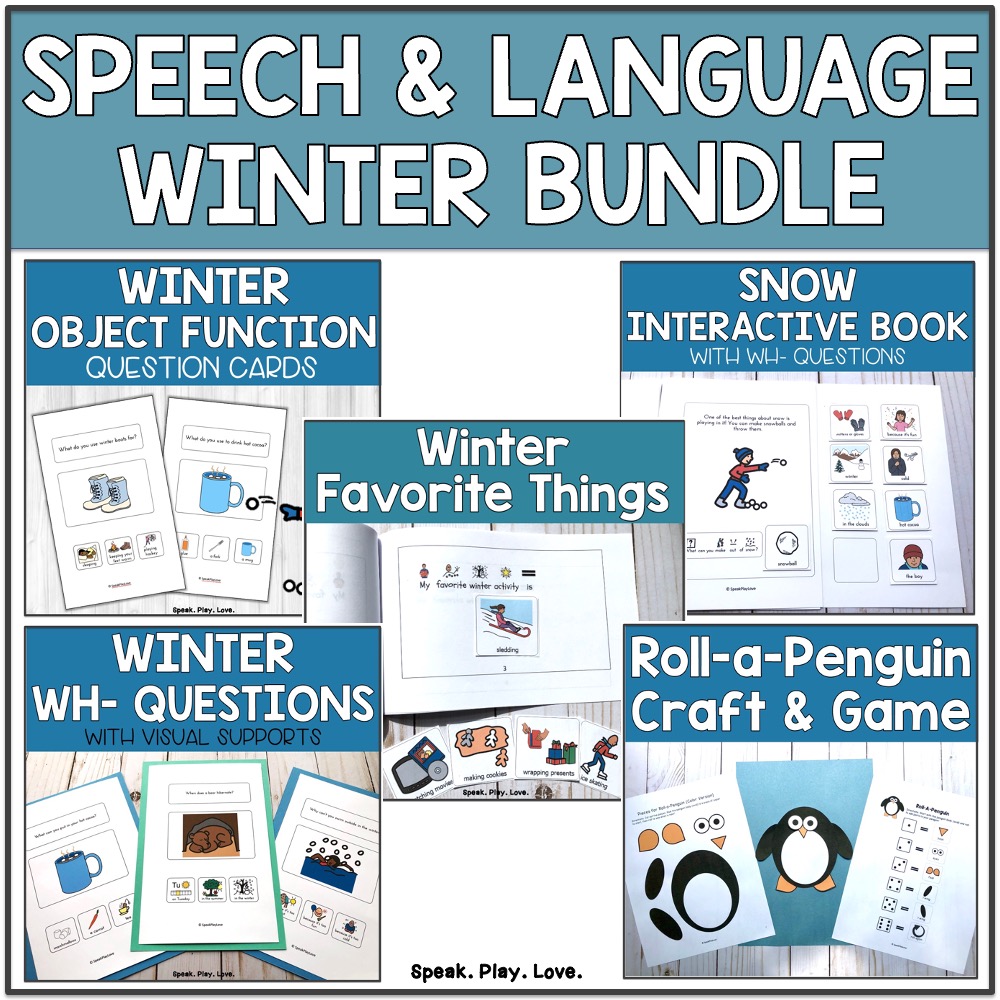 Or if you want a whole year of seasonal and non-seasonal activities, I have an Early Language MEGA Bundle here at a BIG discount!