Summer Speech Language Activities for Elementary Students
It's almost the end of the school year- whoo hoo! But it can be a VERY busy time of the year with extra IEP meetings and reports to write. I've got some summer Speech-Language activities for you . . . and most are no-prep or low-prep!
(If you looking for summer speech-language activities geared more toward early language skills for students who need lots of visuals, check out this article.)
This post contains affiliate links, which means we could receive a commission if you click a link and purchase something that we have recommended.
Summer Speech-Language Activities:
Summer Coloring Activities
Coloring is a preferred activity for a lot of students (and it keeps hands busy). I like to check out my local dollar tree for summer-themed coloring books or print out summer coloring sheets.
During a coloring activity with early communicators, you can work on summer vocabulary, requesting colors, and expanding utterances.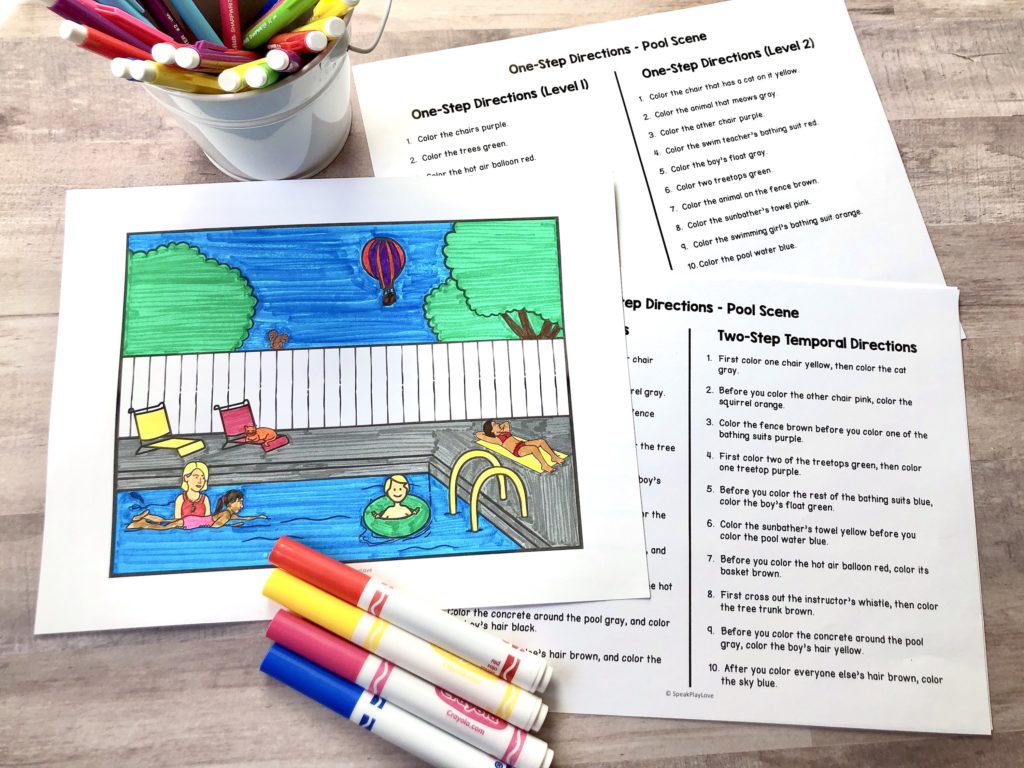 For students working on auditory comprehension skills, you can give coloring directions verbally – from one-step directions all the way up to multiple steps with qualifiers! (If you want a print-and-go option, check out these summer following directions coloring pages)
Shark Summer Craft for Speech Therapy
I love a good craft – great for engaging students and getting in multiple trials! Plus, students love to show off a craft at home, which makes them great for carry-over.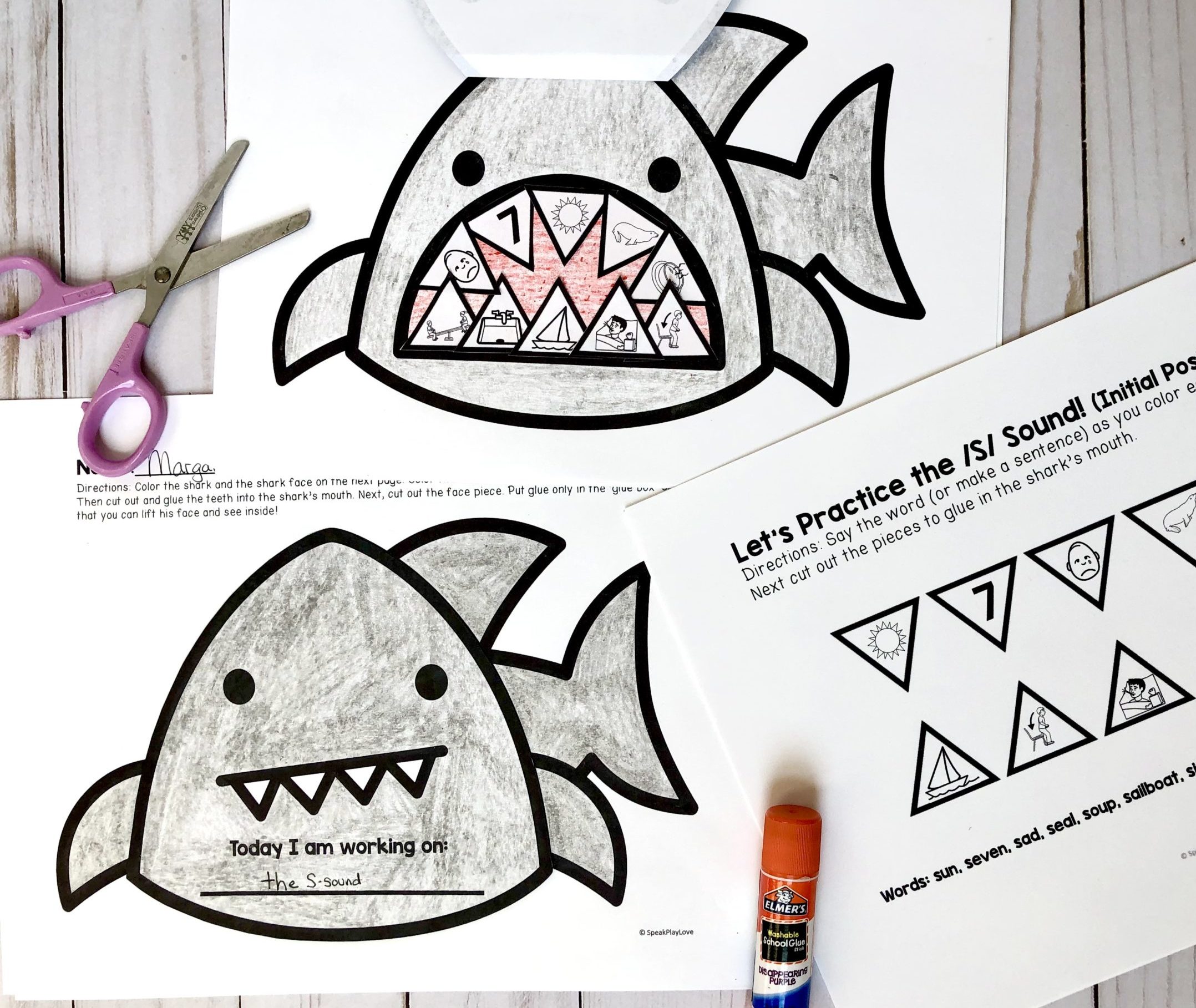 If you are looking for a craft to keep your students' hands busy while working on articulation or language goals, you could try this cute shark craft! The shark teeth have articulation or language targets on them. Students can practice each target while they color, cut, and then glue to get more trials in!
Summer Compare and Contrast Activity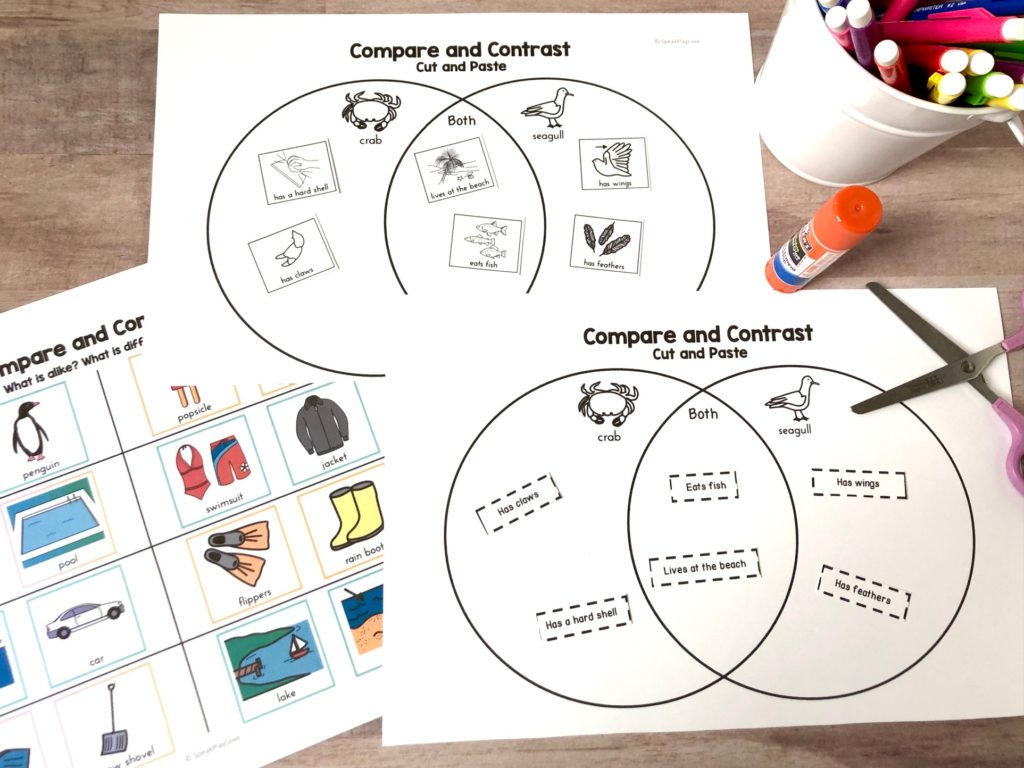 If you are looking for a way to work on more complex language skills, comparing and contrasting is a great activity! You can help your students understand multiple features of two summer vocabulary words (features, function, class, etc.).
Plus, you can help them practice using more complex language to explain the similarities and differences by organizing their thoughts in a Venn diagram. Don't forget to teach them key words and sentence structures to use when explaining their thoughts. You can grab this print-and-go Summer Compare and Contrast Activity here.
Summer Speech Therapy Books

In the summer, I tend to use themes related to the beach, ocean, swimming, pirates, and camping. Here are some summer books to check out:
RELATED: More Summer Books for Speech Therapy
Summer Language BINGO
Games are alwasys a fun way to wrap up the school year! This Summer Language BINGO game can work for 1:1 sessions, small groups, or whole class push-ins. You can choose whether you focus on summer vocab (kind of like playing Zingo with a summer theme), riddles/inferences, or WH- questions.
There is even an option to print black & white boards that students can color in to mark their spaces. The "two-step directions" calling cards are made to go with these black & white boards. You can find Summer Language Bingo here.
RELATED: Using Visuals to Teach WH- Questions
Free Summer Scavenger Hunt
Head outside to practice some summer vocabulary! You could also preview the vocabulary by making a collage or a checklist with your students before heading outside.
For a more advanced option, have students find items based on adjectives (something soft/hard, rough/smooth, large/small, etc.).
You can find my free summer vocabulary scavenger hunt here!
Summer Articulation Practice
I can't leave out articulation activities in my list of summer speech therapy activities! Spice up typical practice with a summer-themed set of BOOM Cards to work on those articulation drills!
I hope some of these activity ideas will work for your caseload too!
Looking for a bundle of some of these summer speech therapy activities at a discount?
Or grab this Language MEGA Bundle for summer + the rest of the year: