Summer Speech Therapy Activities – Plus a Free Download
Whether you are looking for some end-of-the-school-year activities or you are teaching summer school/ESY (extended school year), here are some summer speech therapy activities to get you started.
These summer speech therapy activities include lots of visuals, so they are particularly good for students on the autism spectrum, non-readers, or non-verbal/minimally verbal students! I find that most of my students with these types of needs attend summer school to prevent regression of skills.
RELATED READ: Summer Speech-Language Activities for Elementary Students
Summer Speech Therapy Activities:
Favorite Things about Summer Activity
I love to start a season with a fun, getting-to-know-you activity that is errorless. Just because there are no "right" answers, doesn't mean there aren't tons of opportunities to practice speech & language skills! (social skills, summer vocabulary, turn-taking)
This Summer "Favorite Things Booklet" is a fun activity that encourages sharing opinions with peers for students who benefit from visual choices. (Plus, it can be differentiated for many levels, making it perfect for speech groups!)
In this summer speech and language activity, students fill in five pages about their favorite summer things (like summer food, drink, place to swim, clothes, etc.) by gluing in a picture or by writing and drawing. Some students might be generating their own ideas while others are using visual choices. They can share their answers with the group or compare with a friend.
RELATED: Back-to-School Speech Therapy Activities
Learn about Summer Activities/Summer Vocab
If you have to be stuck in the school building, at least you can learn about fun, summer activities, right? I love to use books with themes like summer, camping, the beach, etc.
Here are some books you could use:
Chalk (wordless book)
A Camping Spree with Mr. Magee
I also like to make interactive books. They keep little hands busy moving the pieces to answer questions about the books. I made these interactive books with a beach theme and a camping theme that include a Wh- comprehension question on each page. They are in my store if you want to check them out! (I also have Boom Cards versions here and here.)
Summer Speech Therapy Craft
I love a good craft! I tend to come across a lot of "roll-and-draw" activities (where you roll a dice to see what part to draw on next), but since some of my students have limited fine motor skills, gluing on pieces works much better for me!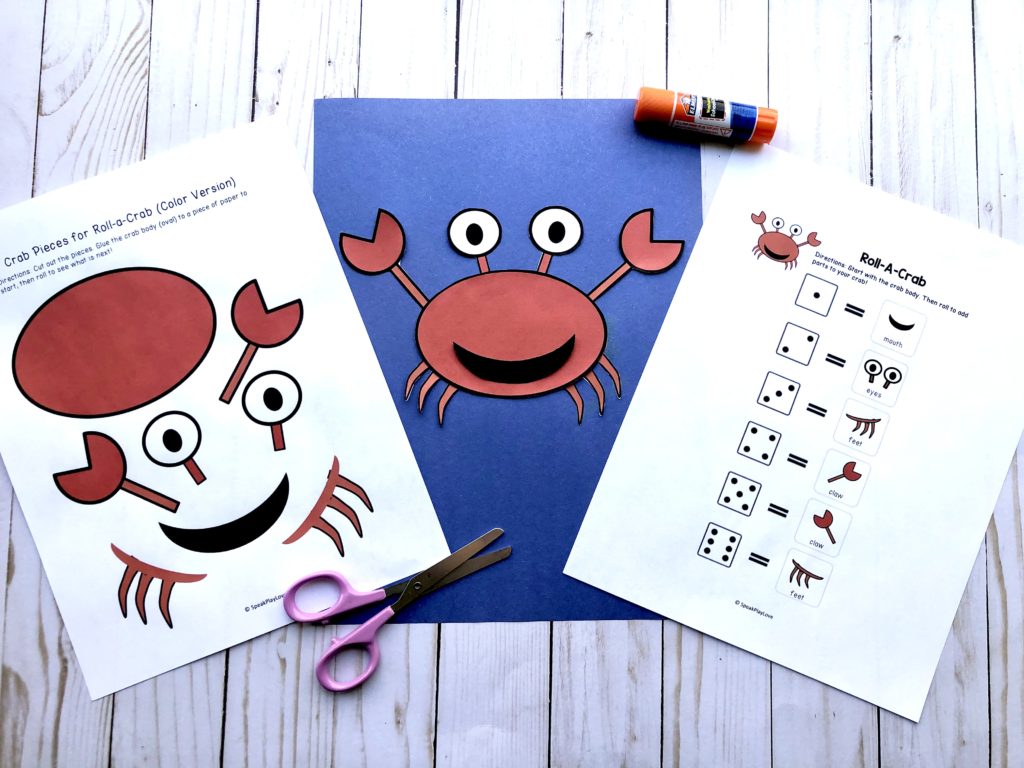 This Roll-a-Crab Craft works for small group speech therapy or individual sessions. You can have students work on requesting a turn, passing the dice, stating the number and piece they rolled and requesting any materials they need!
Learn Summer Vocabulary
One way to work on summer vocabulary is to sort summer items by categories. You can have students use these sorting mats to work on summer-themed sorting and vocabulary!
For students working on "what" questions, the function of objects, and summer vocab, these Summer Object Function task cards are a simple, fun way to target those objectives. (Here's the BOOM Cards version.)
Free Speech Therapy Activity – Summer Scavenger Hunt
Another fun way to target summer vocabulary is with a summer scavenger hunt. You can use this free version by heading outside to search for the items or by using a summer-themed book or video! Grab the FREE summer scavenger hunt here.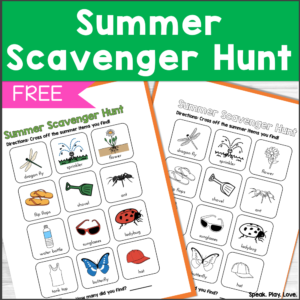 Answering WH- Questions – with a Summer Theme
Do you feel like you are always targeting Wh- Questions? You can shake things up by using some summer-themed WH questions with your students!
I made these task cards that include lots of visuals to help your students with comprehension of both the question and of the answer choices. (There's a BOOM Cards version too!)

RELATED READ: Using Visuals to Teach WH- Questions
I hope some of these activity ideas will work for your caseload too!
Looking for a bundle of most of the above summer speech therapy activities at a discount? Click HERE (It does not include the summer sorting activity, but you can find it here.)

Or if you want a whole year of seasonal and non-seasonal activities, I have an Early Language MEGA Bundle here at a BIG discount!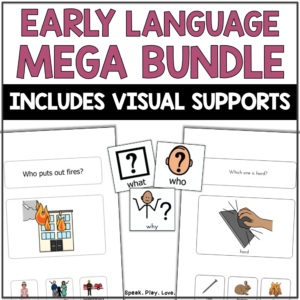 RELATED: Back-to-School Speech and Language Activities