Summer Language Activities for Toddlers and Preschoolers
Summer is the perfect time to be outdoors – meaning that you don't have to plan a ton of indoor activities to keep your little ones busy.
Take language learning outside with these summer language activities for toddlers and preschoolers! (Don't worry there are a few indoor summer activities for those rainy days too.)
Each classic summer activity listed below includes a few ideas to incorporate language development for your child.
RELATED POST: Summer Speech Therapy Activities
This post contains affiliate links, which means we could receive a commission if you click a link and purchase something that we have recommended.
Summer Language Activities for Preschoolers and Toddlers
1. Water Table
OMG – a water table will save your summer. Sylvie can play with water for ages! I like the one pictured above, but we have a combo table that can be used for sensory play or in the winter can be used as her art table with storage inside. Check it out here.
How to incorporate language development in water play:
Talk about and demonstrate 1-2 of these concepts to your child as they start to play with the water activity:
• In/out concepts when transferring water into bowls/buckets or for toys
• Full/empty concept
• Wet/dry
• Action words: pour, splash, mix, scoop, swim (actions for toys), dive, jump
• Float/sink – collect items in the yard and predict if they will sink or float
RELATED: Crab Cut and Glue Craft from my Etsy Shop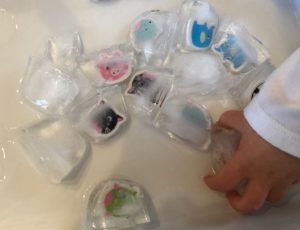 2. Ice Sensory Play
On a hot day you can add ice to your water table or just put some ice in a large bowl. I like to freeze small items into ice cubes (if your child no longer puts items in her mouth) to target specific concepts and vocabulary. Click here to read more about Ice Cube Sensory Play.
RELATED: Ice Cube Sensory Play for Early Language Skills
3. Picking Flowers
Do you have some flowers in your yard that are ready to be picked? Or just admired? I love to walk around the house and talk about the flowers we see with my little one.
How to incorporate language development with flowers:
• Self-talk – for pre-talkers you can narrate (using short, easy sentences) what you see and what you are doing. Have your child point to flowers of interest and you can tell him more! Read more about Self-talk and parallel talk here.
• Color Game – This one is fun with multiple kids. Call out a color and have your little ones run around and find that color flower.
• Teach Adjectives – you can use my Flower Adjective Printable to describe the flowers you see or even use it like a scavenger hunt! (I made it for Flower Shop Pretend Play, but it has lots of uses – get a copy here.)
RELATED: Flower Shop Pretend Play
4. Picnic
If you have your child help you prep for the picnic, you can turn "lunch" into a whole morning activity. This is perfect for preschoolers or older toddlers.
How to incorporate language development with picnic preparation:
• Make a Plan – brainstorm with your child what you will need to bring and what you will eat and drink
• Prep the Food Together – you'll probably be making easy sandwiches and filling containers with fruit/snacks, which is perfect for this age to help out with "cooking." You can work on following 1-2 step directions during this part of the prep.
• Pack Your Bags/Basket: Start to list things from your brainstorming session that your child can gather for you to put in the bag. You can also incorporate numbers here, "We need four plastic forks."
RELATED:  Cards and Checklists to Keep Your Summer Organized
5. Summer Story Time at Your Local Library
Most public libraries offer an array of children's programs for free! It can be a great way to meet other parents and kids and to cool off inside. Our library lists special events and reoccurring programs on its website.

RELATED: Practice Vocabulary with these Printable Sorting Mats in my Etsy Shop! 
6. Walk on the Beach
We are lucky that my parents live near the beach in Florida so we get to go a couple of times a year. There's so much to see at the beach – and hear and touch and smell!
Five Senses Game – Pick a sense and then ask your child, "What do you see/hear/smell/feel/taste?" Taste might not always fit in, but if you stop for a drink or ice cream, you can include it. Or you can imagine what the birds are tasting. I love to talk about the textures of the sand and seaweed as well as the contrasting temperatures of the sand vs. water. The beach is great for vocabulary building!
Write in the Sand – This is perfect for early literacy and writing skills. Grab a stick and write a message to all the people who will be passing by later in the day!
RELATED:  Cards and Checklists to Keep Your Summer Organized
7. Day at the Lake
We are so lucky to live by so many lakes here in central New York. Sometimes we go to swim, but most days we just walk around talking about what we see and throwing rocks and sticks in the water.
As you collect rocks or sticks, you can talk about describing words such as small/medium/large and short/long and thick/thin.
8. Sprinklers
Sprinkler play can be a great opportunity to elicit some language from a reluctant talker. Start out playing "ready, set, GO!" with your child and then let your child have a turn telling you to "go" – it can be really motivating to see mom or dad get soaked too!
RELATED: Crab Cut and Glue Craft from my Etsy Shop
9. Bubbles
Bubbles are a staple in Early Intervention Speech Therapy for emerging talkers. (And I always love when students want to play with bubbles – I especially like the challenge of trying to blow the biggest bubble possible!)
For non-talkers, you can work on asking for "more" with sign languages. For those with a few words, I usually work on "open" and "more" and then ask them if they want "little bubbles or a big bubble."
Watch out if your child always chooses the last option. That could mean they are echoing you. You'll want to switch up the order sometimes or change the way you ask such as, "Big bubble or little bubbles, what do you want?"
RELATED: Practice Vocabulary with these Printable Sorting Mats in my Etsy Shop! 
10. Make a Smoothie
This tasty, healthy frozen treat can be fun to make together! (I usually keep the blender unplugged until the top is on and we ready to blend.)
Make a Plan – take a look in the freezer/fridge to assess what type of frozen fruit you have available and then decide what might taste good together!
Direction Following – You can give your child directions such as, "Put in 5 strawberries" or you can switch roles and have your child give you directions!
RELATED:  Cards and Checklists to Keep Your Summer Organized
Enjoy your summer!!
Pin It for Later: