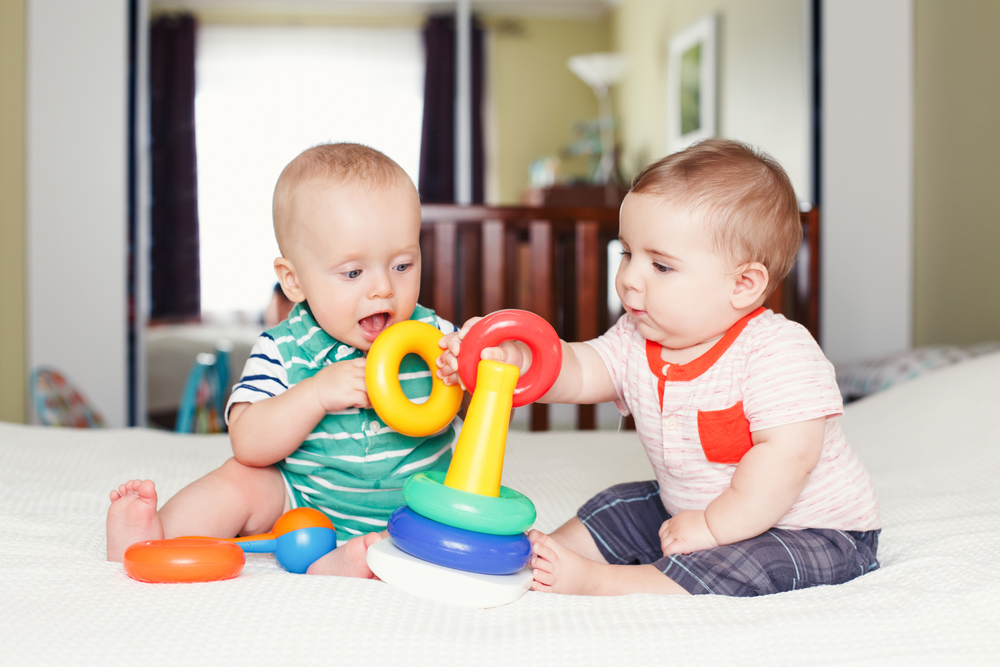 Gifts for Babies that Encourage Language Development
I've complied a list of some of my favorite toys to stimulate early language development in babies. (I usually give one of these as part a baby shower gift or as a first birthday present!)
Even before babies learn to talk, they are laying the foundation for talking and communication! As a Speech-Language Pathologist, I use toys during play-based therapy with pre-talkers to establish imitation skills, understanding of cause/effect, receptive language (understanding words/language), and to teach gestures such as pointing, waving, and baby sign language.
This post contains affiliate links, which means we could receive a commission if you click a link and purchase something that we have recommended.
Cause and Effect Toys for Infants
A cause and effect toy means that the when the baby does something (it can be as simple as moving her hand) then an effect happens. For instance if a baby is holding a rattle and she moves her hand, then a sound happens. Understanding cause/effect is one of the first building blocks for communication. Crying is a form of early cause and effect communication, which eventually turns into saying a word and getting a response from the parent.
Rattle Toys

There's a reason this one is a classic! A rattle is one of the first cause and effect toys a baby can use. When my daughter was a baby, I struggled to find a rattle that was skinny enough on the handle for her to hold early on (and light enough not to worry when she bumped it into her face!) I got this eco-friendly one from a friend and Sylvie loved it! Find it on Amazon by clicking here.
We also used these
soft rattles
that attach to baby's wrist or ankle with Velcro! Find them on Amazon by
clicking here
.
Shape Sorter with Wacky Sounds

This is one of my all-time favorite toys! I have used it in therapy and give it as a 1st birthday present all the time. It is a simple shape-sorter that makes a funny noise as each piece slides down a tube. You can also encourage the child to blow on the bottom of the shapes to make the sound to work on oral-motor skills. Find it on Amazon by clicking here.
Ball Pound and Roll

This Pound and Roll toy comes with a hammer to whack the balls, but younger babies that are able to sit up can push the balls through the holes and watch them roll down the ramps! Find it on Amazon by clicking here.
Receptive Language Toys for Babies

All the toys on this list can be used to build receptive language skills (comprehending language that is heard) if you make play interactive, but the following toys are ideal for teaching new vocabulary and simple direction following.
Knob Puzzles for Babies
Beginner puzzles with 3-4 pieces and large knobs are perfect for little hands. Babies can start with just taking pieces out and exploring the pieces. As they gain more motor skills, they will be able to put them in and work on matching skills. Puzzles are great for building vocabulary too! I love toys made by "Melissa and Doug," especially their sturdy wooden puzzles like this safari animal puzzle, the pets puzzle, and the house puzzle.
RELATED READING: 10 Puzzle Activities that Promote Learning
Board Books for Babies
Books are increasingly popular to give at baby showers. I love to give board books since they are extra sturdy and allow babies to be hands-on with their books right away. A few of my favorite baby board books include My Big Word Book, Rrralph, Gossie (or anything from the Gossie and Friends series), Doggies (and everything from Sandra Boynton!), and Baby Talk.
RELATED: How to Raise a Reader (Plus more board book recommendations)
Stacking Blocks and Stacking Rings
Stacking toys are great for motor skills, but they are also perfect for building receptive language skills. As you play with your little one, you can talk about the pictures on the side of the blocks, the colors, the size and work on turn taking. I love the Melissa and Doug's stacking blocks. You can find them on Amazon here.
Smaller and lighter stacking rings can be ideal for younger babies that are grasping items and sitting up. I like this sensory-friendly set (since you know they are going to end up in baby's mouth!). You can
find them on Amazon here.
Toys that Build Imitation Skills
Think about how babies learn say their early words – they imitate you or repeat after you. But before children can imitate your words, they must learn to watch you and then imitate your actions. You can work in imitation in a variety of ways (here's some toy-free ideas) including with these toy ideas!
Car Ramp
With a car ramp toy, you can work on imitation skills by making silly car sounds, driving the car around the ramp and then letting it go at the top – then let your little one copy you! This car ramp is recommended for 18 months, but a 12 month-old could use if for interactive play! You can find it on Amazon here.
Little People
Fisher Price makes a series of toys called Little People. I got my daughter a Little People house on her first birthday. The model has recently been discontinued, so I can't link it here. But there are lots of Little People options available! You can make the Little people do actions and have your child imitate you! Though we don't have this exact toy, the Little People Treehouse set looks like a good starter set!
What's your go-to baby shower or 1st birthday gift? Share in the comments below!
Pin It for Later!