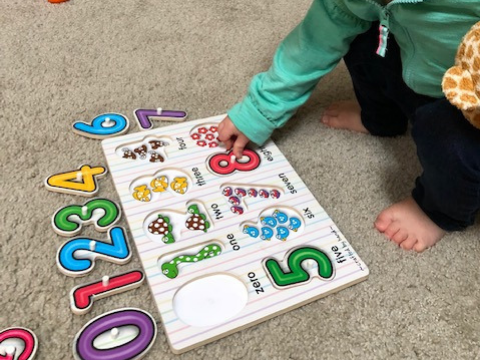 10 Puzzle Activities for Toddlers, Preschoolers, and Babies that Promote Learning
One of the best toys for language development is the PUZZLE! Puzzles are inexpensive, don't take up too much space, and are so versatile. Puzzles seem simple, but there are a lot of puzzle activities you can do with your child!
In this article, I'll cover how to use puzzle activities for toddlers, babies, and preschoolers – as well as with older, special needs children (just look for the communication-level that matches your child's ability).
I've found that some children who are late to speak have more developed skills in visual problem solving, so puzzles tend to be a preferred activity to encourage talking or communication via interactive play. (Of course this is not true for all late talkers!)
RELATED: Check out this Printable Sorting Activity in my Etsy Shop!
This post contains affiliate links, which means we could receive a commission if you click a link and purchase something that we have recommended.
What Are Benefits of Puzzles?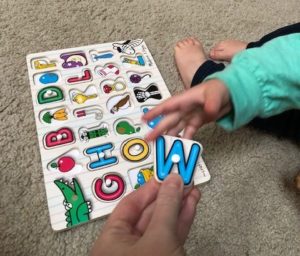 Puzzles are great for developing:
Fine motor skills
Eye-hand coordination
Visual-Spatial skills
Problem solving
Receptive and Expressive Language
Vocabulary
Categorizing
Learning location words
Combining words into phrases and sentences
RELATED: Check out this Printable Sorting Activity in my Etsy Shop!
Puzzle Activities for Babies' Development (And Pre-Talkers of Any Age)
Large wooden puzzles with knobs or chunky wooden puzzles are usually best for this age!
1. Take Pieces Out
At around 6 months, babies can take puzzle pieces out when using a knob puzzle. This is also appropriate for older children with limited motor skills. Model language in a simple way such as narrating your child's actions: "Take out." And by naming the pictures on the puzzle as your child's attention is focused on that piece.
2. Matching
Many knob puzzles and chunky wooden puzzles have the same pictures on the piece and under the piece to help younger children via matching rather than having to rely on the shape only.
Help teach your baby to match by drawing his attention to the picture on the piece he picks up (by pointing as you say the name of the piece) then by pointing to the matching picture on the picture board.
3. Manipulating Puzzle Pieces to Fit
One way to help your child learn to put in pieces is to lay the piece on the board right next to where it belongs with the orientation/alignment correct so that he can just slide the piece over to get it in!
Once he's mastered that, you can help by telling him to "turn it around" as you guide his hands to turn the piece the correct way.
4. Build Receptive Vocabulary Skills
Wooden chunky puzzles can target many different basic categories of vocabulary such as animals, transportation, shapes, colors, etc.
After your child takes the pieces out, collect the pieces so that you are "in control" of them. Then present two pieces (let's say they are a horse and chicken) and ask, "Where's the horse?" or say, "Point to the horse."
If your child isn't sure, give him a clue by wiggling the correct one as you repeat the word "horse" – remember it's supposed to be fun not frustrating!
RELATED: Get Baby to Talk with These 5-Minute, No-Prep Activities
Puzzle Activities for Toddlers' Development (And Early-Talkers of Any Age)
Early toddlers can still benefit from using chunky wooden puzzles and then they will begin to move toward peg puzzles and thinner wooden puzzles, which continue to work on increasing fine motor skills. Depending on the child, you can start to introduce some larger cardboard puzzles too (specific puzzles for toddlers' development suggested below).
5. Building Vocabulary by Requesting
For early talkers, puzzles are a great way to increase vocabulary. Usually a puzzle will target a specific category such as zoo animals, water animals, transportation, etc.
Start out by modeling the name of the piece and then give your child an opportunity to repeat the name before you hand over the next piece.
Then you can move on to letting your child request the piece he wants. Try holding up a piece and waiting a few seconds to see if he can remember the name. If not, that's okay – tell him what it is so he can repeat after you!
RELATED: Check out this Printable Sorting Activity in my Etsy Shop!
6. Answering Basic WH- Questions
Let's say you have a farm animal puzzle, try holding up an animal and asking, "What does the pig say?" Or if that is challenging, hold up two animals and ask, "What says oink?"
A bit harder would be asking a "where" question, such as "Where does the boat go?" He might point to the spot or tell you that it goes "in the water."
RELATED: Check out these WH- Questions Cards in my Etsy Shop!
7. Puzzle Activity for Toddlers: Teaching Opposites
If your child seems ready for heavy-duty cardboard puzzles, check out some of the puzzles put out by
The Learning Journey
! (Technically they are recommended for 3+ years, but I use some of them with my 2 year old with supervision.)
Click here to see the Opposites puzzle on Amazon.com
You can help with the physical side of things by aligning the pair of pieces and just let her put them together. It will take her a bit of practice to understand that she needs to lift one side up a little to pop the pices together.
This opposites puzzle is a great way to talk about descriptive words (full, empty, big, small, etc.) and to combine two words into phrases such as "empty cup" or "fat cat."
RELATED: Here's a Peek at Our Toddler Weekly Schedule
Puzzle Activities for Preschoolers and Beyond
Many preschoolers (age 3+) are ready for 2-3 piece sequencing puzzles or very early jigsaw puzzles made from thin wood or durable cardboard. More complex wooden peg puzzles such as number and letter puzzles are perfect for this age group too!
RELATED: Check out these WH- Questions Cards in my Etsy Shop!
8. Teach Alphabet and Phonics
Using an alphabet puzzle is a great way to work on learning the alphabet as well as sounds that go along with each letter. In the
alphabet puzzle we have at home
, there is corresponding picture under each piece that starts with the target sound.
Once your child has mastered the letter sounds and pictures from the puzzle, start to name other words that start with that sound. You can make it a game to name three things with each sound before you put in that letter.
RELATED READ: Choosing a Homeschool Preschool Curriculum
9. Sequencing
This sequencing puzzle is great for learning to put things in order (first, second, last) and expanding language. Each set of three puzzle pieces that go together can be used to tell a very early narrative that uses "first, then, last." For example, "First the car is dirty. Then she washes the car. Last the car is clean!"
This puzzle is also great for asking "why" questions such as "Why is she cleaning the car?"
There are a lot of pieces in the box, so it might be a good idea to put a few sets together in a baggie so that your child doesn't get distracted looking through ALL the pieces!
10. Early Jigsaw Puzzles
Early jigsaw puzzles
are fun to do as a family. You work on lots of things with these more complex puzzles such as:
Count the pieces (make sure you're not missing any before you start!)
Parts of a whole (e.g. "here's the tail")
Location words (e.g. "Here is the top corner" or "This piece goes under the eye")
I hope your little one enjoys learning with puzzles too!
Pin It for Later!