50+ Sensory Bin Fillers – Plus a Free, Printable List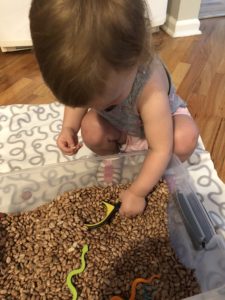 Keep scrolling for a list of more than 50 sensory bin fillers (for the "base" of your sensory bin) you can use for sensory play. Add other larger items to the bin – such as items that target specific learning goals or seasonal items with one or more of the fillers listed below! I love looking for items to add at the Dollar Store or the seasonal section of Target.
If you want a printable version of the list, click here!
*Please use discretion about choosing fillers based on your child's developmental stage. Many of these suggestions can be choking hazards for children who put items in their mouths.  All activities suggested by Speak. Play. Love. should be supervised by an adult. Enjoy! 🙂
(This post contains affiliate links, which means we could receive a commission if you click a link and purchase something that we have recommended.)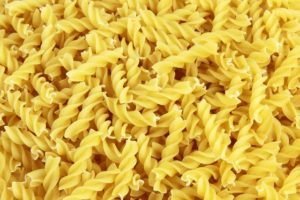 Dry Food Sensory Bin Fillers:
Rice
Beans – all one size
Beans – small, medium, large for sorting
Oats
Pasta
Corn meal
Flour
Dried Corn Kernels or Un-popped Popcorn
Cereal
Food Sensory Bin Fillers:
Spaghetti (dyed with food coloring)
Jello
Pudding
Pumpkin Guts
RELATED POSTS:
Ice Sensory Bin to Target Early Language Learning
Christmas Sensory Bin for Language Development
"Nature" Related:
Sand
Dirt/Soil/Mud
Leaves
Water
Flower Petals
Grass (real or fake)
Hay
Snow
Rocks
Pine Straw
"Cool" Sensory Fillers:
RELATED POSTS:
Ice Sensory Bin to Target Early Language Learning
Get Your Toddler Talking with a Halloween Sensory Bin
Valentine's Day Sensory Bin and Sorting Activities
Common Household Items:
Cotton Balls
Shaving Cream
Cut Yarn
Foam from dish soap
Corks
LEGOS
Crafting Items:
Pom-poms
Easter grass
Glass Pebbles or Marbles
Beads
Did I leave anything out? Please comment below with your child's favorite sensory bin filler!
And if you are looking for a printable PDF of this list, click here!
Pin It for Later!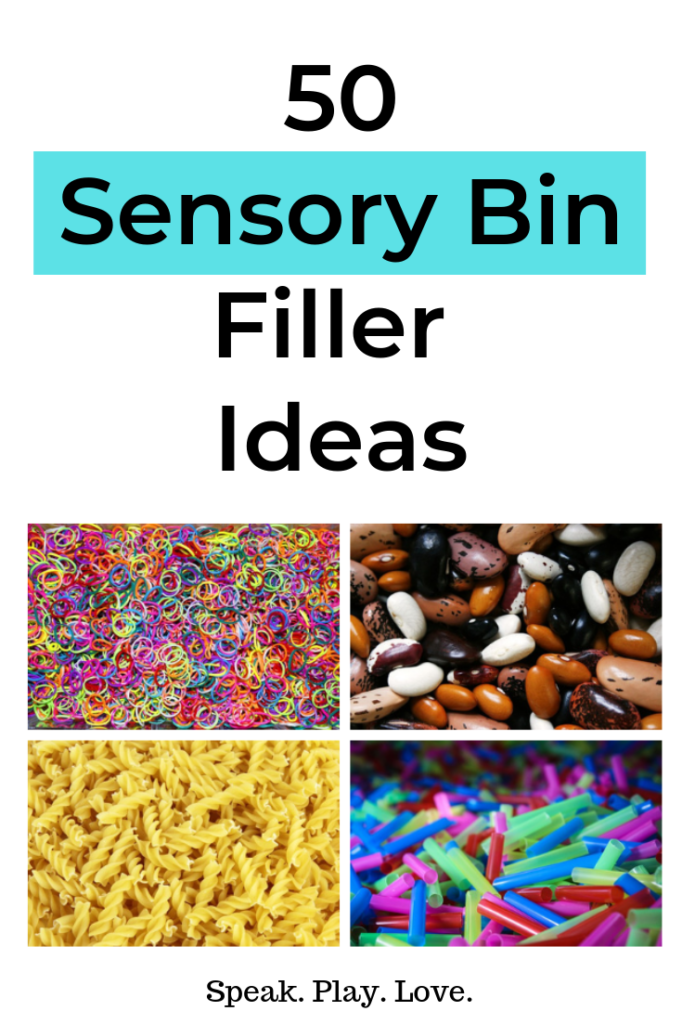 >