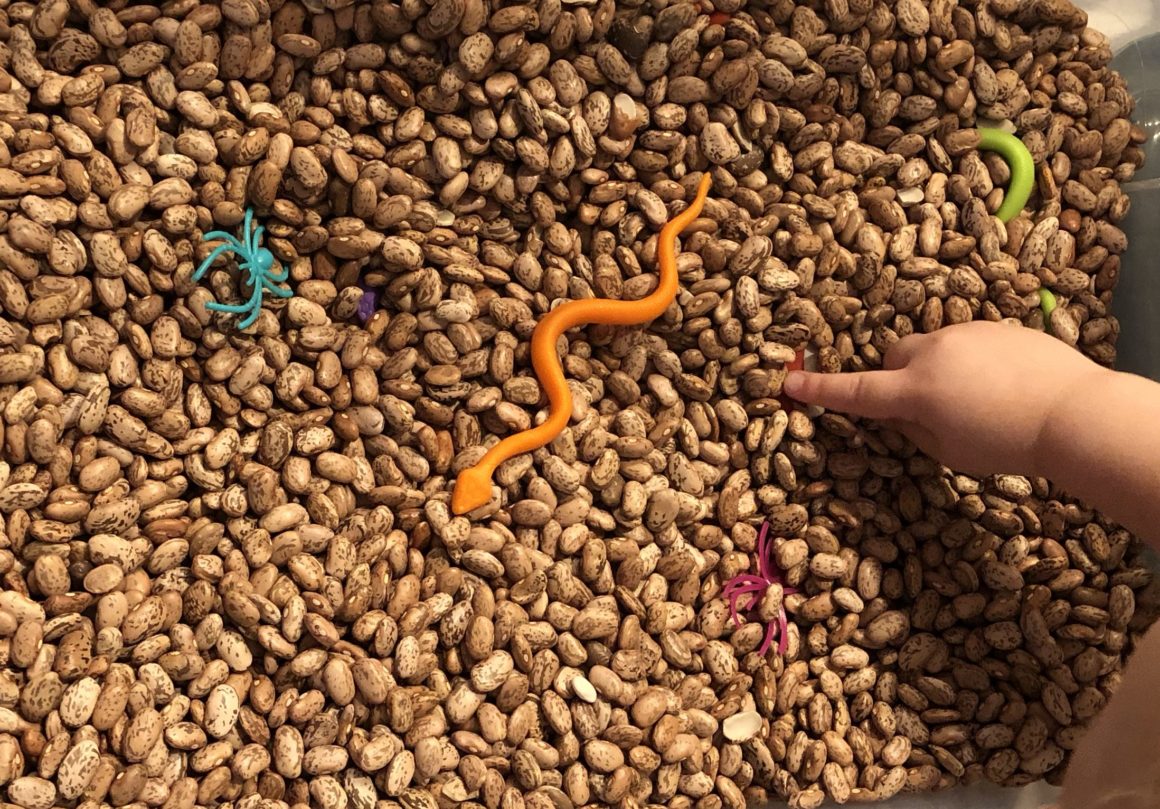 Get Your Toddler Talking with a Halloween Sensory Bin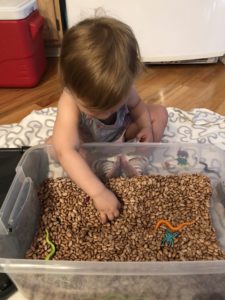 This Halloween sensory bin for toddlers (or older kids – I even enjoy playing with it) was a hit in our house! And as a bonus I got everything I needed from the dollar store 🙂
Not only was this a great interactive activity to work on language development and fine motor skills, but Sylvie also played with it independently (but supervised since she still occasionally puts things in her mouth) for 20 minutes! That means I had time to work on my computer and fold laundry while she played happily next to me – score!
This post contains affiliate links, which means we could receive a commission if you click a link and purchase something that we have recommended. 
Halloween Sensory Bin Fillers:
2 bags of beans
one small-medium storage bin with a lid
one pack of plastic snakes
one pack of spider erasers
one pack of spider rings
one measuring cup for scooping
Tried-It Tip: Place a cheap fleece blanket or beach towel under the bin to catch any beans that accidentally come out – because they will, even if your tot is cooperating and following the rules 😉
If you want more tips about keeping sensory bin messes to a minimum, check out this great post from Busy Toddler.
The dollar store or the front area in Target always has new seasonal stuff, so you can trade out the hidden items periodically to keep your little one interested. Or if you want to work on specific vocabulary/concepts with your child, like animals or colors, you can put items in to target those skills.
RELATED: 50+ Sensory Bin Filler Ideas
Here are some tips for incorporating language development while playing with the bean bin: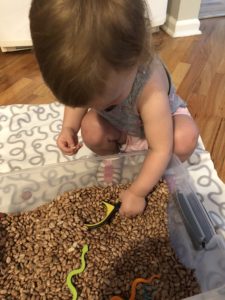 1. Narrate Action Words:
As you and your child are doing actions, narrate what you are doing. Some key words might be:
Try to narrate one, small level above from where your child is talking.
If he is not talking yet

, narrate at the single-word level ("Pour" or "scoop").

If he is saying single words

, then you want to narrate 2-3 words as a model. He doesn't have to repeat you yet! You might try saying, "Scoop the beans."

If he is saying short phrases

, then repeat what he says and expand using a descriptor or an additional phrase. For example, if he says, "Found a spider," then you could respond with "Yes! You found an orange spider!"
2. Make sounds like the hidden toys or animals:
In this bin we have snakes, so lots of 'sssss' sounds can be fun!
3. Let your child "scare" you with the Halloween creatures:
Building on the 'ssss' sound, pretend to get scared when your child wiggles the snake at you and makes a sound. This is a great building block for conversational turn-taking and social interaction.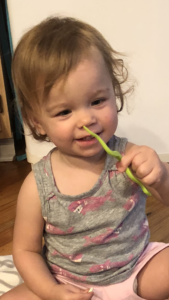 4. Teach the Concepts "In" and "Out":
You can tell your child, "Oops – a bean fell out of the bin." (That's why I use the blanket) You can also practice scooping and pouring in the bin.
5. Sorting by color or animal type:
As your child finds the items in the beans, have her put them in bowls or piles according to animal or according to color.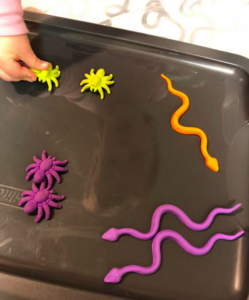 Sensory bins can be very soothing – for kids and adults! Try out dry beans, dry pasta, sand, rocks, or rice for different sensations.
RELATED: 50+ Sensory Bin Filler Ideas
Please leave a comment below!
What is your favorite thing to hide in a sensory bin?
Any tips to keeping the area tidy?
Pin It for Later!