Ready, Set, Crash! Sylvie Loves Stacking Blocks
This post contains affiliate links, which means we may receive a commission if you click a link and purchase something that we have recommended. 
Sylvie has loved her stacking blocks since she could sit up well. I've had this set of Melissa and Doug stacking blocks for several years – since before she was even born because it was always a favorite in speech-language therapy for the 1-4 age range. You might already have a set of stacking blocks at home – any set is great!
These are my favorite because 1) they are wooden and make a great "crash" when you knock them down 2) each side is color-coded for a different category of animal so blue=water animals, red = farm animals, orange = zoo animals and green=woodland animals.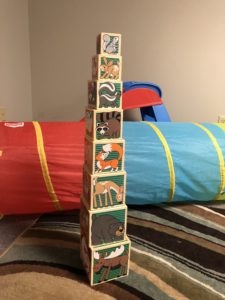 Here are my tips on using this type of activity for language development: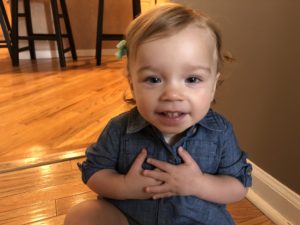 Take Turns:
If your child is not talking yet, have him pat his chest to indicate that he wants a turn and then you can model saying, "my turn" or "me" as you give him the next block.
If he is talking, have him verbally ask for a turn before he gets the next piece. This is all about creating extra opportunities for communication and then rewarding that with a turn! Don't forget that you can take turns too!
Model the vocabulary:
Point out the picture on the block that you or your child are about to put on. Pause for 3-5 seconds before handing over the block to see if your child will imitate the words (or even a sound from the word).
Identify the picture:
Hold up two blocks and ask your child to "Show me the ____" or "Where is the ____?" If she is not sure, you can wiggle the correct block as a clue.
If using two blocks is too challenging, just present a single picture block at a time and work on having your child use a pointer finger. (Don't let this get frustrating – it should be fun and successful for the child. Remember you are playing!)
Name the picture:
If your child is taking, you can ask, "What is this?" or have your child complete a sentence. For instance you could say, "I see a . . . ." or "The cow says . . ." Remember to pause for a few seconds to give him a chance to come up with the word before you jump in with an answer – this is harder than it sounds!
Stack by category:
Have your child look at all the pictures on a block and then ask something like, "Which one lives in the water?"
COMING SOON: Check back for a video demonstration 🙂
If you are looking for this set of blocks, here it is on Amazon:
The form you have selected does not exist.
Please comment below – I'd love to hear from you!
Where is your favorite place to find educational toys for your tot?
(I love garage sales and thrift stores! And Target – ha ha!)
Does anyone's tot get scared when stacking blocks fall?