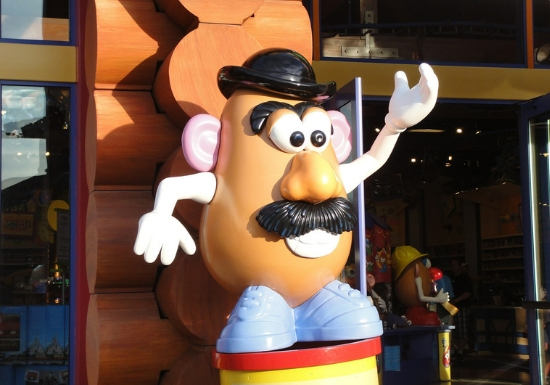 How to Get Your Toddler Talking with Mr. Potato Head
Good Ol' Mr. Potato Head. He's silly looking and targets learning the basic body parts, two things that toddlers love – Win Win! So, let's delve into how to get your toddler talking with this classic toy!
Note: For most of the ideas below, it is best for you to be "in control" of the pieces. Instead of just laying them out on the floor, you'll want to have them out of reach from your child so that you can have his full attention on the piece you want to talk about/use.
This post contains affiliate links, which means we may receive a commission if you click a link and purchase something that we have recommended.
Once you've got your tot interested in the toy – here are some ideas for using Mr. Potato Head for language development:
For Pre-Talkers:
Identify Body Parts:
Hold up the next piece, tell her what it is, and ask her to point to that body part on her own body. "Where's your nose?" If she doesn't know yet, you can point on your body and then gently guide her hand to point on her own body. Maybe add a little tickle in too!
OR try holding up two Mr. Potato Head pieces as choices when you ask, "Where's the ____?" If he isn't sure, give him a clue by wiggling the correct one – remember it's supposed to be fun not frustrating!
If she doesn't have the fine motor skills to put in pieces yet, that's okay! You can help her out.
RELATED: Grab these Song Choice Cards from my Etsy shop!
For Beginning Talkers:
Have your child label the body part
Wondering how to get your toddler talking – even if he's a

resistant talker

? Try this:
1) Present the next body part and say, "What's next?" Remember YOU are in control of the pieces, so only the piece you are presenting is available to your tot right now. For the sake of this example, let's say it is the eyes.
2) Wait. I mean really wait. Count in your head for at least 3-5 seconds. Some kids need longer. I've been known to wait up to 15 seconds as long as the child is not loosing interest in the activity and it is a familiar word. This is especially true if you think your child knows the answer but has difficulty with processing speed or initiation. Again, don't let him get too frustrated. AS SOON as he answers, hand over the piece!
3) If he doesn't respond or says something different, just say, "Eyes!" in a happy voice and see if he responds after you model the word a couple of times (maximum three times). Remember to wait a few seconds after you say the word to give him a chance to repeat you. And if he does say the word or something close, then really bump up the excitement level!! "Yes! Eyes! You got it!"
Get your child to say a sentence:
Once your little one is labeling body parts easily, have him request using a sentence. Again, you will have all the pieces in your possession in a pile or a bag for this activity. Ask what he wants next. Instead of presenting a piece, help him start his sentence by saying, "I want. . ." And then wait 3-5 seconds. If no response or this is too hard, pull out a piece and model by saying, "I want eyes" and have him repeat you before handing it over.
RELATED: Practice Vocabulary with these Printable Sorting Mats in my Etsy Shop! 
Take It to the Next Level:
Ask "function" questions:
Try asking, "What do you use to see/hear/smell?" or "What does Mr. Potato need to see/hear/smell?" You might want to hold up Mr. Potato's eyes as a clue or as a method to teach this concept if it is new.
RELATED: Practice Object Function Questions with these Printable Cards in my Etsy Shop! 
More ways to target learning the body parts:
bath time
when getting dressed
action songs like "When You're Happy and You Know It (Clap Your Hands)"
One thing I love about incorporating these tips into play is that it gets me down on the floor, interacting and playing with Sylvie – it might surprise you how much fun you'll have playing with a toddler toy!
RELATED: Check out my Etsy Shop for Children's printable activities!
Please comment below – I love to hear from readers!
What is your favorite classic toy from your childhood?
I used to love my Raggedy Ann doll!
Pin It for Later!