Christmas Sensory Bin Toddler Activities
Sensory bins are always a hit in our house. Keep reading to find out about my Christmas sensory bin toddler FAIL 🙁  Plus, I've included fun ways to work on language development with your child in conjunction with this sensory bin!
Please note that this activity requires supervision if your child puts item in his/her mouth.
Once again I got most of my fillers from the Dollar Tree or the grocery story including:
One large bag of rice
One bag of red white and green pom-poms
Christmas themed erasers
Large jingle bells in red and green
I also added a measuring cup for scooping and a few plastic containers for sorting.
Sylvie was super interested in the bells . . .
Aaaanndd this is what happens when you put bells in a bin of rice:
But not to worry! Sylvie still had a great time playing with the bells in other ways. (Maybe more fun than with the sensory bin)!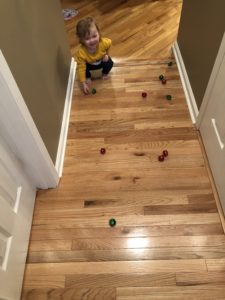 Apparently giant jingle bells are great for kicking, rolling, shaking and sorting (Well, I got her interested in the sorting part.)
This was the first time Sylvie had played with a rice sensory bin and she really loved the sensations of letting the rice run through her hands.
But she also did throw a scoop-full of rice in to the air at one point. In our house, that doesn't fly, so we put it away for a few minutes to reinforce that
rice stays in the bin.
RELATED: 50+ Sensory Bin Filler Ideas
 Christmas Sensory Bin Toddler Ideas for Language Development
Here are some tips for incorporating language development while playing with this Christmas-themed sensory bin:
Narrate Action Words:
As you and your child are playing, narrate what you are doing. Some key words might be:

Scoop
Pour
Dig
Hide
Find
Try to narrate one small level above from where your child is talking.

If he is not talking yet, narrate at the single-word level ("Pour" or "Scoop").
If he is saying single words, then you want to narrate 2-3 words as a model. He doesn't have to repeat you yet! You might try saying, "Pour the rice."
If he is saying short phrases, then repeat what he says and expand using a descriptor or an additional phrase. For example, if he says, "Found a snowman," then you could respond with "Yes! You found a white snowman!" or "Oh I think the snowman feels cold – brrr!"
Sing Christmas Carols:
Check out these printable Christmas Song Choice Cards in my Etsy Shop!
The erasers I found worked for "Frosty the Snowman," "Rudolph the Red Nosed Reindeer," "Oh Christmas Tree," and "Santa Clause is Coming to Town." But here are plenty of choices for songs depending on what you find for bin fillers!
Caroling for pre-talkers – you can practice cause/effect, which is a building block for communication, especially requesting! When she finds a reindeer, have her hand it over or show you and then you can bust into that song for a stanza or two!
Caroling for early talkers – see if you can get him to tell you what he found. Christmas vocabulary might be new, so tell him the word if he doesn't know it yet and let him repeat you. Then when you sing the song, stop right before you sing a key word to see if he will fill-in-the-blank (Of course this only works after he knows the song!) Want to read more about using the Expectant Pause and other tips for getting reluctant toddlers to talk? Check out this article: 9 Tips to Get Your Toddler Talking.
RELATED: Best Songs for Language Development
Make silly sounds:
Sometimes it's helpful to get kids comfortable using their mouths and silly sounds are a great way to practice.

If she finds a Santa try getting her to imitate "Ho Ho Ho!"
For the snowman, you can both act cold by shivering and saying, "Brrrr!"
Transfer Activity or Sort by Color:
As your child finds the erasers or pom-poms (or bells if you are using beans or something big enough to not get inside them!), have him:

Do a simple transfer into an empty bowl or container OR
Sort them into bowls or piles according to color.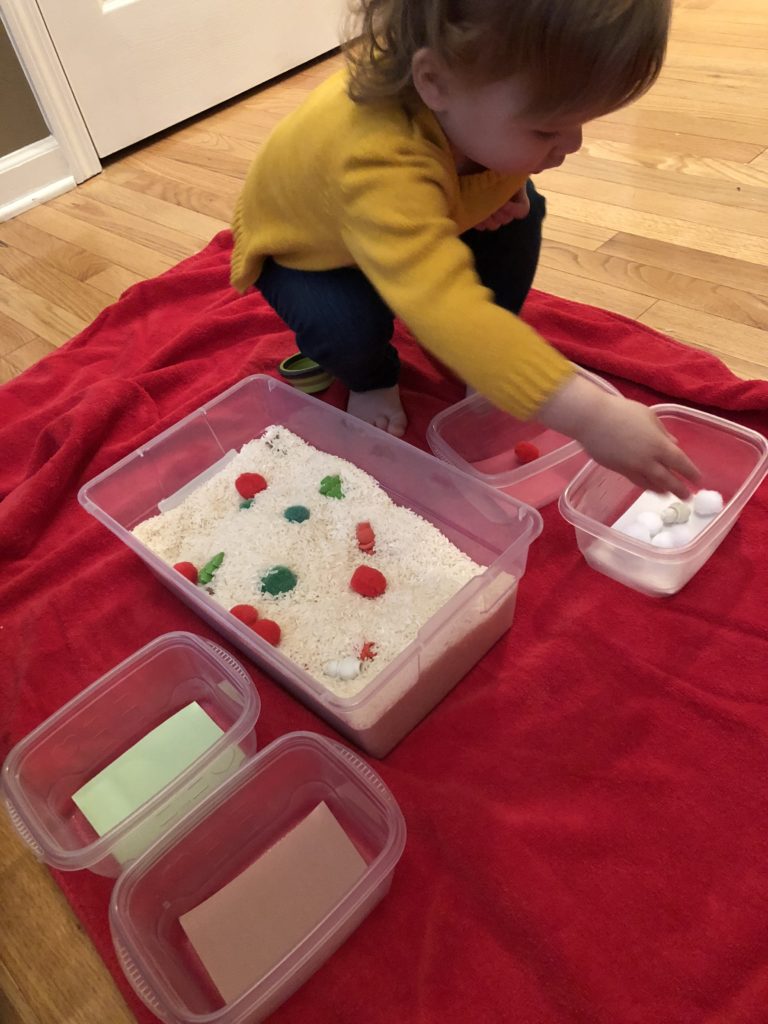 Sensory bins can be very soothing – for kids and adults! I love running my hands through a bin of rice or beans!
I love hearing from readers – Please leave a comment below!
Have you ever had a sensory bin fail?
What is your favorite sensory bin filler?
Pin It For Later!