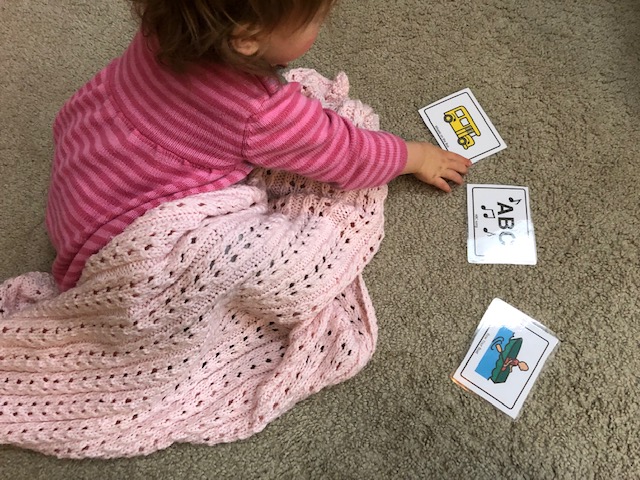 Best Songs for Language Development – Plus a Free Printable
Want to light up your little one's face? Try singing a fun, children's action song for language development! Not only are they a wonderful way to connect with your child, but they are free, don't require any toys, and you can sing pretty much anywhere.
(Hey! Are you a speech therapist? You might enjoy this version of the article instead.)
What is the importance of singing to your child?
Children's songs naturally lend themselves to working on language development through building vocabulary, repetition, language memory, and creativity.  Songs with actions and movements built-in can work on gross motor development as well!
Sylvie has loved music since she was teeny tiny – my (off-key) singing would always bring a smile to her face. I would randomly pick a song to sing to her based on whatever my foggy, mom-brain could come up with in the moment. But sometimes I wondered, "What does she want to hear?" or "Which song does she like the best?"
Click here to get a free, printable set of 12 communication cards you can use to let your pre-talker or early talker pick which educational song he or she wants to hear!  There are a few ways you can use these:
Then, present 2-4 at a time and let your child point or hand you a card OR
Place the cards in a 4×6 photo album and let your child flip through the pages to pick a song.
RELATED: Get the full set of 48 Song Choice Cards on my Etsy store (or from my TeachersPayTeachers store)
This post contains affiliate links, which means we could receive a commission if you click a link and purchase something that we have recommended.
Here Are the 12 Songs Included in the Free Printable and Tips for Encouraging Language Development with Music:
1. Ring Around the Rosy
This is a perfect song to get some of those first words out! Try singing the song while you hold hands and walk in a circle (It's fine if there's only the two of you) and of course fall down at the end.
Do this 2-3 times to familiarize your child with the game and song. Then, once your child knows what is coming and is looking forward to the falling down part, use an Expectant Pause before you say, "down" and fall. That will give him the chance to say "down" so that he can get to the fun part! You can read more about the expectant pause here.
2. Hokey Pokey
The Hokey Pokey is great for gross motor movement (i.e. Getting the wiggles out!) and for learning body parts. For younger children, you might just want to stick to arm, leg, head, and body. But for older kids, it's the perfect time to work on learning left and right too!
Hokey Pokey Lyrics:
You put your (right) hand in,
You put your right hand out,
You put your right hand in,
And you shake it all about,
You do the hokey pokey
and you turn yourself around
That what it's all about. (Say while clapping)
2) (right/left) hand/arm
3)  (right/left) foot or leg
4) head
7) whole self
3. If You're Happy and You Know it
I like the version by Super Simple Songs (I learned it from this video, but then just sing it to get more interaction.)
This song teaches emotions and beginner gross body movements through actions.
To incorporate emotions, make an exaggerated happy/mad/scared/sleepy face for your preschooler to copy. After the song, you can talk about different things or times that make you feel each of those emotions.
For younger kids, focus on teaching following directions or imitation skills with the movements clap, stomp, and arms-up.
RELATED: Get the full set of 48 Song Choice Cards on my Etsy store (or from my TeachersPayTeachers store)
4. Head, Shoulders, Knees and Toes
This is another song that's perfect for learning body parts and imitation. I suggest slowing it way, way down as you sing until your child is successful and then slowly speeding it up until it ends in a silly mess of pointing! It's sure to get the wiggles and the giggles out!
5. Twinkle, Twinkle Little Star
This sweet, classic song is nice for teaching your child imitation of the gestures. See the video below if you want to learn the gestures.
You can also use the expectant pause (see above) with this one too once your child is familiar with the lyrics. Pause a the end of a phrase such as
Twinkle, Twinkle little . . . .(star)
How I wonder what you . . .(are)
Up above the world so . . . .(high)
Like a diamond in the . . . (sky)
6. The Itsy Bitsy Spider
Another great song to get your child imitating your gestures! (and singing along)
7. BINGO
Bingo is ideal for children with beginning letter awareness. Because there is lots of repetition, they can get familiar with singing letters out of the order of the ABC's song!
This one can be fun for younger kids too by working on the number of claps – at the beginning of each stanza, pause and tell your child how many claps there will be.
RELATED: Get the full set of 48 Song Choice Cards on my Etsy store (or from my TeachersPayTeachers store)
8. Old MacDonald Had a Farm
This classic is one of our favorites! To start, you can work on animal sounds. Put in some pauses to see if your little one can make the animal sound or copy the sound you make. As your child progresses, have him tell you which animal you should sing about next!
Before Sylvie could say an animal name, we used the animals from a farm play set we had around the house as a  props during the song or to make choices about the next animal!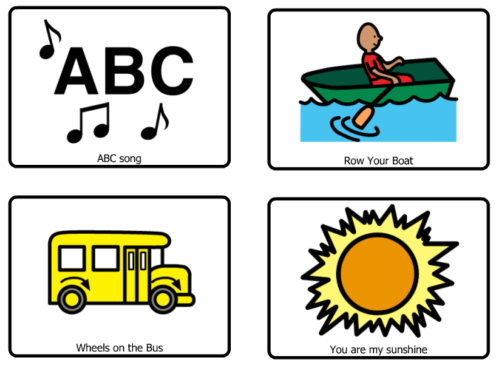 9. ABC's Song –  A Classic Educational Song for Preschoolers
Great for early literacy and of course learning the names and order of letters, this soothing tune can be started as early as your little one enjoys hearing it! As she gets older, pause to let her fill in letters.
Sometimes I pair this one with Sylvie's favorite letter puzzle or foam letters in the tub by singing a few letters and then stopping at one to see if she can find the letter. "A B C D. . .Where's the D?" You can make this easier by just putting out the target letter or just 2-3 letters as choices.
10. Row, Row, Row Your Boat
I like the version of this song that incorporates animal sounds and 'screaming' – the more interactive the better!
You can also sit or stand facing your child and hold both hands as your rock back and forth as you sing this song.
Here's the lyrics for Row, Row, Row Your Boat that we like:
Row, row, row your boat
Gently down the stream
Merrily, merrily, merrily, merrily
Life is but a dream
Row, row, row your boat
Gently up the creek If you see a little mouse
Don't forget to squeak!
Row, row, row your boat
Gently down the stream If you see an alligator
Don't forget to scream!
Row, row, row your boat
Gently to the shore
If you see a lion
Don't forget to roar!
Row, row, row your boat
Gently to the beach
If you see a monkey
Don't forget to screech!
11. The Wheels on the Bus
Love Love Love this one! It really grows with your child.
For toddlers, you can have start with working on imitating the actions.
Next you can work use the expectant pause to have him fill in a sound or action word such as "beep" or "up and down."
When that is mastered, you can make it more challenging by asking your child what should be next. And older kids can get really creative by making up new things that can happen on the bus! This is great for creativity and flexible thinking – as well as working on describing skills!
12. You Are my Sunshine
I don't have any specific tips for this one. I just included it because I love it 🙂
I usually just sing this one quietly before bedtime (and try not to get a lump in my throat – it's a super sentimental one that Sylvie requests a lot).
"You are my sunshine, my only sunshine
You make me happy when skies are grey
You'll never know, dear, how much I love you
Please don't take my sunshine away"
Pin It for Later: