How to Entertain a 2 Year Old on a Plane + Tips for Flying with a Toddler
Sylvie was *almost* 2 years old during this last Christmas flight (22 months). So far we've braved five flights with her as an "infant in lap" (i.e. "free"). While I'm no expert,  I do have some helpful tips for flying with a toddler and advice on how to entertain a 2-year-old on a plane based on our experiences!
Each time before I fly, I scour the internet and Pinterest looking for tips and inspiration – anything to help me "feel" like I've got a plan 🙂
This trip went relatively smoothly! Though I have to warn you that in two previous trips I've ended up covered in baby vomit, so the bar is set pretty low – see tip #2: pack extra clothes for yourself in your carry-on.
Now that Sylvie is at the toddler stage, it's a little easier because she is interested in more things. (Keep reading for the toys and activities we used to entertain a 2 year old on a plane.) On the other hand, as a toddler, if she had decided to really have a tantrum – it could have been a scene!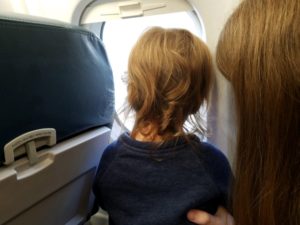 This post contains affiliate links, which means we could receive a commission if you click a link and purchase something that we have recommended.
Tips for Flying with a Toddler
Think about the timing of the flight(s). We chose super early flights (take off of first flight = 6 a.m.) because Sylvie is a notoriously bad napper and I didn't think that she'd be able to nap on the plane. (When she was a baby – she napped a lot on the plane though!)  If I had found a flight at 8 a.m. that would have been ideal, but sometimes you are at the mercy of the airline's schedule. On the other hand, if your tot sleeps in the car, then maybe he'll sleep on the plane too. . .
If you are going to use screen time, invest in child-safe, volume-limiting earphones. After a little research, I chose BuddyPhones for Sylvie. Our children's hearing is precious – we've got to protect those little eardrums from damage. Plus, your child can keep using her volume-limiting earphones into elementary school! Click here to see BuddyPhones on Amazon.

I'm normally not a proponent of extended screen time, but I think the airplane is worth an exception! Goal = get to the other side with everyone's sanity intact including the passengers around you.
Bring an empty sippy cup with you, but not a CamelBak. I love Sylvie's kid's CamelBak. She uses it every day, but something about the pressure changes that occur during flight force water out of the spout (a lot of water). Luckily it was stowed in an outside pocket of her diaper bag and the contents of the bag was safe – it could have been worse! On the return trip, we packed her CamelBak in checked luggage and brought a Munchkin Miracle 360 cup on the carry-on – No leaks!
  VS.
Pack extra clothes for your toddler/baby and for yourself. You never know when a diaper blow-out or motion sickness will happen. I learned the hard way that spending your entire layover trying to find souvenir sweatpants to change into (unsuccessfully) is not fun 🙁  Thank goodness we were not seated in a row with any strangers on that trip!
How to Entertain a 2-year-old on a Plane: Toddler Airplane Activities
Eating Snacks/Meals: Much like my take on screen-time on the plane – anything goes! Think of your child's preferred snacks and meals that aren't too messy and take a little extra time to eat! We like:

Granola bars
String cheese
Dried fruit (but not too much since it can be tough on tummies)
Mini bagels
Crackers/chips
I also read recommendations for lollipops – they take a long time to eat. It's on my list to try next time!
Watching Movies/Shows: Since we already use Netflix and Disney+ at home, we just used the apps on my phone. Only some shows/movies are available for download (rather than streaming), so a little pre-trip prep is involved. Get the app on your phone and download some shows before you leave, otherwise, you'll have to pay for wi-fi on the plane to view shows.
"Art": We brought some crayons, four folded pieces of paper, and two mini sticker books. (Sylvie and I prefer real stickers to the reusable ones, but that's just us!) I also bought a Water Painting travel booklet, keep reading below for details (It was THE HIT of the trip for Sylvie)
Related: Coloring Inside the Box: How to Get Your Toddler Talking while Coloring
Looking Out the Window: It seems like a no-brainer. But as an adult thinking about all the details of the trip, I sometimes forget how amazing and different everything looks from up high! We spent a fair chunk of time looking out the window. Sylvie excitedly labeled things she recognized and asked me what other things were. This was one of my favorite parts of the trip. (And it is the perfect opportunity for an impromptu language development activity)
Related: How to Raise a Little Bookworm
How to Entertain a 2-year-old on a Plane: Travel Toys for Toddlers
This is by far my favorite travel toy for airplane travel! (or anytime!) Click here to find it on Amazon
I picked this up at a local store near us on a whim and kept it hidden away until the trip. I was pretty sure she would like it, but I had no idea how much! Throughout the whole trip, she wanted to "do painting" 5+ times per day and she still wasn't tired of it on our return plane trip!
You fill up the paintbrush/pen with water and then as your little one paints, it turns the white parts of the pages into colorful pictures. You can also help your child find the hidden items listed on each page. The cardboard pages dry within about 10 minutes, fading back to the original white backgrounds.
We just had regular crayons, but these triangle shaped crayons wouldn't roll off the tray table 🙂
Games
Simple games that include matching can be a good fit for 2-year-olds. This printable airport scavenger hunt and flashcards can be a fun way to search for things out the window and on the plane. It also has flashcards so you can learn airport vocabulary before you go on your trip!
Sticker Books
I waited till the last minute to grab some mini-sticker books, so I just got them from my local Hobby Lobby. But this sticker book about the airport looks perfect (and cheap!) Click here to see it on Amazon
 And
Richard Scarry's A Day at the Airport
looks really fun too! You can help your child learn about the airport, play "I spy" and the paperback version has stickers!
I can't claim this idea (I saw it on Pinterest) If you can snag a window seat, these farm animal window gel clings are perfect for playing with on the window and practicing some animal sounds and names. You can find them here from Amazon.
RELATED: Recommended Toys to Encourage Language Development
Those are my tips on how to entertain a 2 year old on a plane! I hope you find them helpful. If you have any go-to tips or activities for flying with a toddler, please share them with other readers by leaving them in the comments. I love to hear from readers!
RELATED: 10 Summer Activities for Language Learning
RELATED: Toddler Visual Schedule – Free Download
Pin It For Later!