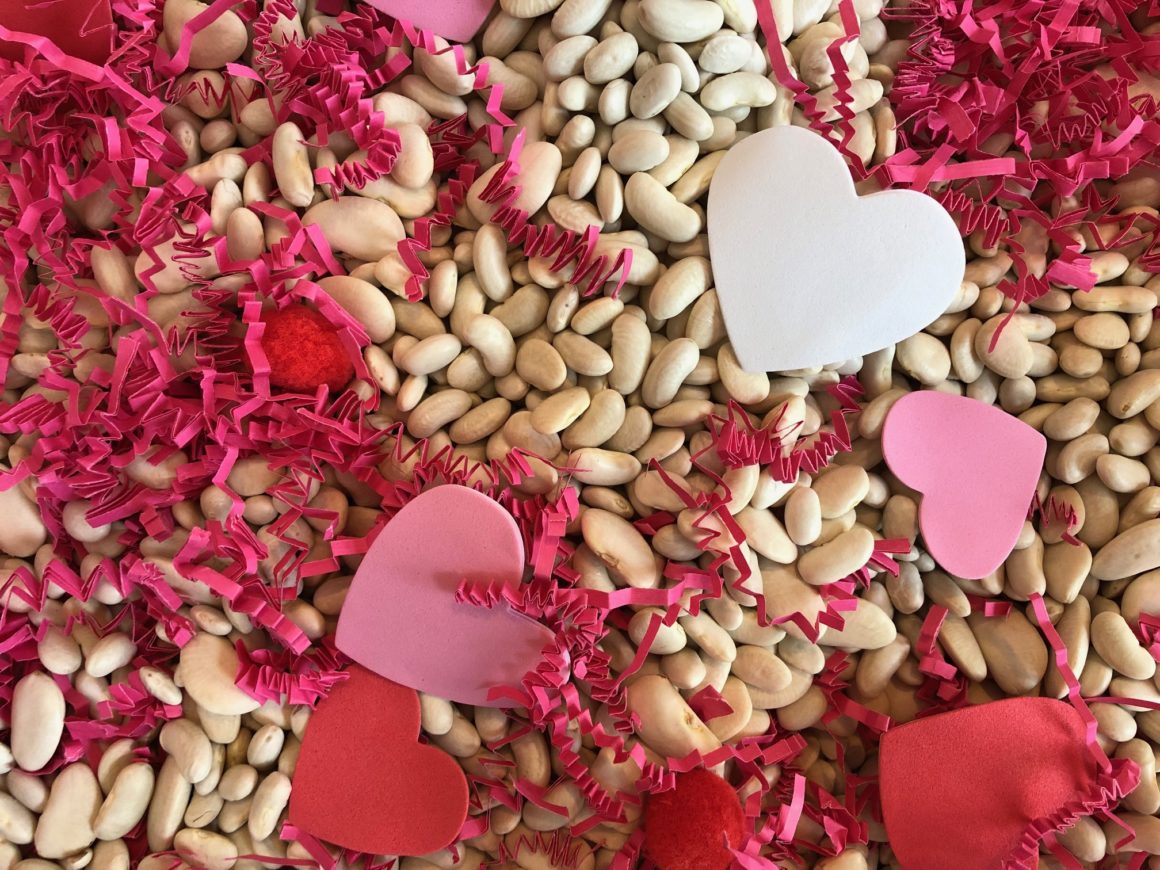 Valentine's Day Activities for Toddlers
 I wanted to let my little Valentine join in the festivities, but finding Valentine's Day activities for toddlers isn't so easy! Of course she always loves a good sensory bin, so I got myself out the Dollar Tree and picked up some simple sensory bin fillers.
I also found some foam heart-shaped stickers that inspired a Valentine's Day-themed sticker sort!
This post contains affiliate links, which means we could receive a commission if you click a link and purchase something that we have recommended.
Valentine's Day Sensory Bin
Toddlers have a natural inclination to sift, dig, dump and generally experience different sensations. I like to trade out different fillers and bases throughout the year to keep Sylvie engaged. Whenever I introduce a new sensory bin, she is thrilled!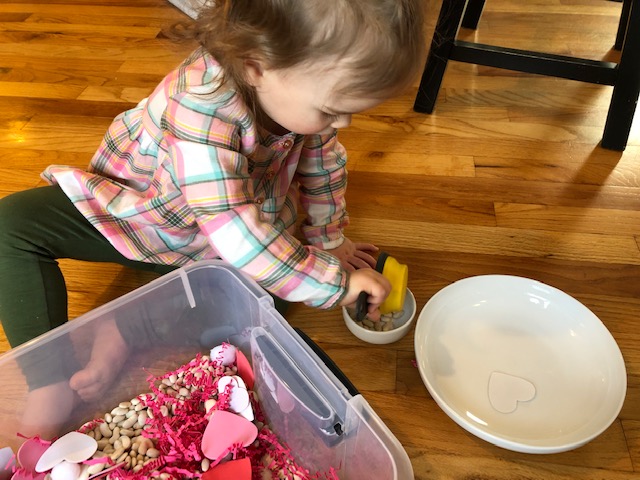 Sensory bins are great for interactive play as well as independent play (but I always stay close by make sure things stay tidy and that nothing goes in her mouth). My daughter put things in her mouth for what seemed like forever! Luckily, at nearly two she seems to have finally out grown it – yay!
Sensory Bin Fillers for Valentine's Day:
Since I wanted to keep with a Valentine's Day color scheme, I wanted a white, pink or red filler. Ultimately I went with mix of pink crinkle-cut shredded paper and white beans in a variety of sizes (including baby Lima beans, large Lima beans, and Cannellini beans) so that I could work on sorting by size when Sylvie is ready for it!
Here's a list of all the white/pink/red filler ideas I thought of:
Silk Flower petals (or real!)
Rice
Cotton Balls
White Beans
Am I missing any? Please drop a comment below if you have a great white/red/pink filler idea!
For items to hide in the Valentine's Day sensory bin, I went with foam heart stickers (which we also used later in the sticker activity – see below) and pom-poms. These items came in 2-3 colors and in 2-3 sizes, so they were perfect for early learning activities!
Early Learning Activities with the Sensory Bin
Scoop and Transfer Activity: This was mostly what Sylvie wanted to do, especially to start. It's great for letting your toddler experience the sensory aspect of the bin and for fine motor skills too! You can use:
Empty bowls or plastic containers
Muffin tin
Ice cube tray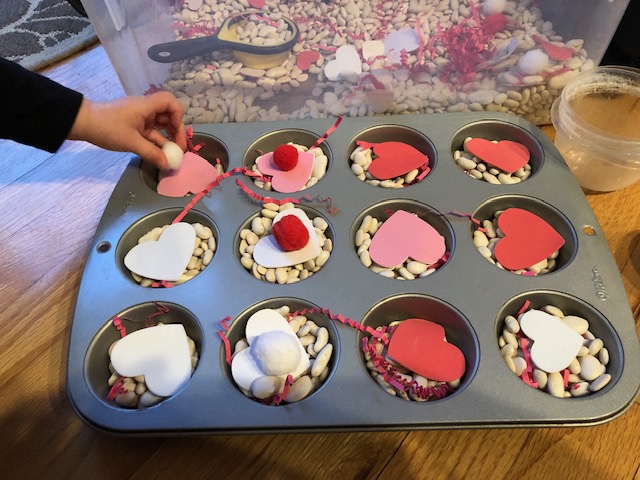 Sorting by Size or Color: If you have bowls or containers of different sizes, you can have your toddler sort right into those. If not, try drawing a big, medium and little circle on three different pieces of construction paper and have her put the hearts or beans right in the circles.
Encouraging Language Development with a Sensory Bin
Work on Vocabulary:

Label Items for your Child:

Beans
Bowls
pom poms
paper
hearts

Teach Describing Words:

Empty
Full
Soft
Hard
Colors
Size
Narrate Action Words: As you or your child does these actions, label or narrate what's happening
Tip: Try to narrate one, small level above from where your child is talking.
If he is not talking yet, narrate at the single-word level ("Pour" or "scoop").
If he is saying single words, then you want to narrate 2-3 words as a model. He doesn't have to repeat you yet! You might try saying, "Scoop the beans."
If he is saying short phrases, then repeat what he says and expand using a descriptor or an additional phrase. For example, if he says, "Found a heart," then you could respond with "Yes! You found a red heart!"
Click here to read more about how you can talk to your child to increase language development.
Are you looking for a fun, app to help your child with speech and language skills? I like Speech Blubs – you can learn more here and get a free trial. (I recommend you work on the exercises in the app with your child – it is a great guide!)
Valentine's Day Sort by Color (or Size)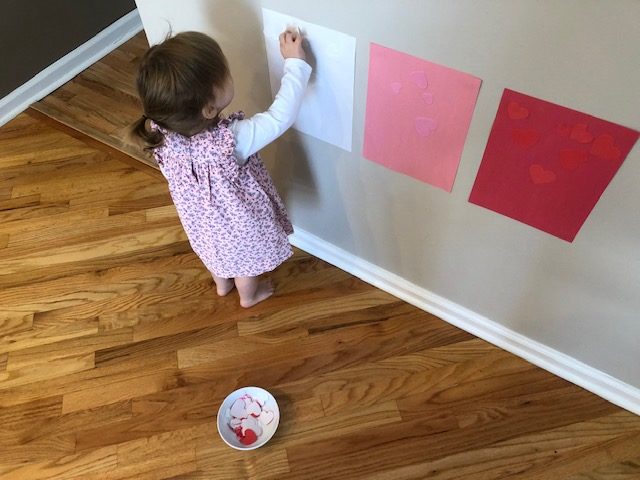 A few months ago, we tried Busy Toddler's Sticker Sort activity (Here's 13 More Sorting Activities to try) and it was a hit! So I adapted it a bit for Valentine's Day by using Foam Heart Stickers.
Set-Up: I used painter's tape to stick the construction paper to the walls to make sure it didn't damage the paint. Then I dumped the foam stickers in a bowl. Done!
We got to work on learning different colors (pink, red, and white) plus some fine motor skills by pulling the paper back off the hearts. I had to get them started for her.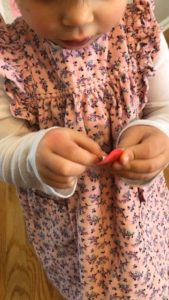 If sorting/matching by colors is too easy, you could try sorting by size instead since foam stickers come in small, medium and large.
RELATED: 13 Sorting Activities that Encourage Language Development
I hope you enjoy these activities as much as we did!!
Pin It for Later!