Choosing a Homeschool Preschool Curriculum
I am really excited to start a fun, play-based homeschool program for my preschooler. Here's more on how I decided which curriculum to use:
Why Even Bother with Homeschool for a Preschooler?
I never thought I would be searching for a homeschool preschool curriculum.
When people used to tell me that they were going to "homeschool" their preschooler, I thought:
Why? Preschoolers need to learn through play. (Spoiler alert: I still believe that preschoolers need to learn through play!)
I am so lucky to be staying home this year with my 3.5 year old and newborn. (I'm writing this in fall of 2020 and I was planning to stay home even before COVID.) But lets flashback to a few months ago. When I first planned to be a temporary SAHM I figured, "I am at home and I am an educator, so why would I send my 3.5 year old to a preschool?"
But. . .as my daughter reached three years of age, I really started to see how she craved new experiences. She wanted to learn new things – all the time! So at that point (remember this is before COVID), I was thinking that she would enjoy the stimulation of going to a preschool program a couple of mornings per week.
Then COVID hit and I decided that it just didn't make sense to send her to a preschool program outside of the house.
Enter the idea of homeschool.
So. . .Can't I just find homeschool preschool activities on Pinterest?
Could I come up with my own program or just find activities on Pinterest every week? Of course! But with a newborn (and a blog and TpT store), I'd love a little help and a bit more structure for my preschooler.
(This post contains affiliate links, which means we may receive a commission if you click a link and purchase something that we have recommended.)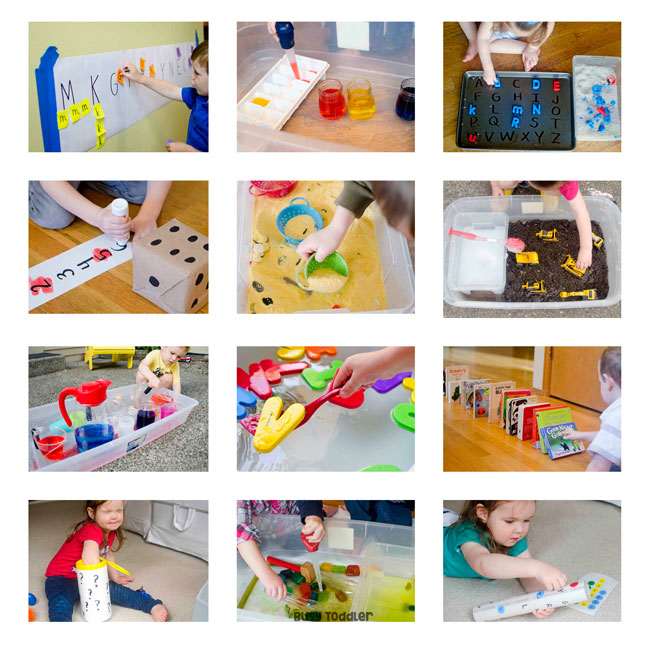 One of My Favorite Activity Gurus
I immediately thought of one of my favorite activity gurus: Susie from Busy Toddler. For years, I've seen her activities all over Pinterest and they are always a hit with my daughter.
I knew she had a preschool curriculum for homeschool so I looked more into it. . . And it is called Playing Preschool – playing is in the name, so I knew it was the right match for us!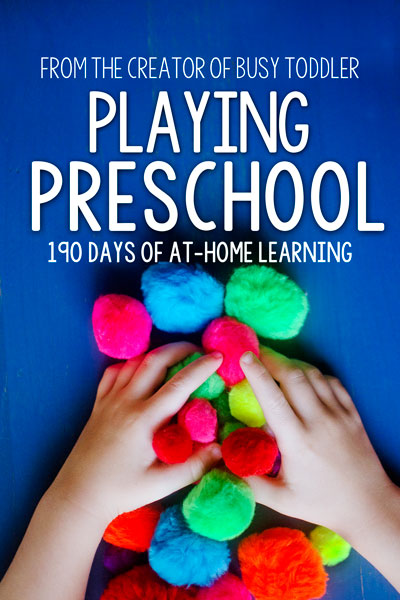 How Does Playing Preschool Work?
Susie has the homeschool preschool program broken down into 19 thematic units, including topics like plants, eggs, fairy tales, etc. Plus, each unit focuses on teaching/reinforcing 1-2 letters in fun ways. There are 190 days of activities included!
She suggests a few basic supplies along with books you can purchase or check out from the library that are part of the theme. Then each week, she'll give you an easy-to-read schedule full of hands-on, play based activities.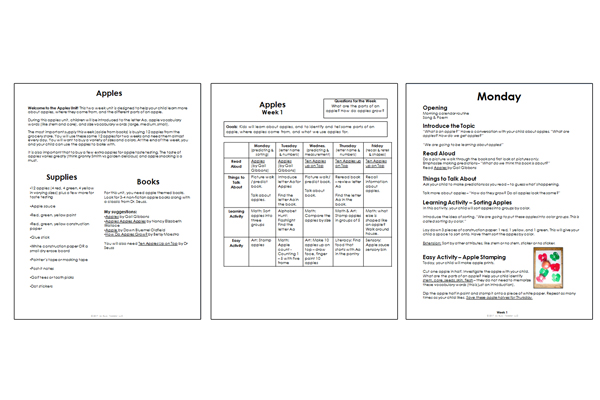 Wait – I have a newborn. . .
I'm definitely not planning on spending all day "homeschooling" my preschooler. This program can be as short as 45 minutes per day – or you can expand some of the activities to make them longer.
Here's what's included in each day's plan according to the author's website:
Start the day: calendar, song/poem, and an introduction to the topic
A read aloud hand picked to fit the theme
"Things to Talk About": a conversation to have with your child about the book/theme
A learning activity – an activity usually done by parent AND child to develop a targeted skill and fits with the unit theme
An easy activity – a quick & easy themed activity that the child can typically do independently
My Schedule for Homeschooling a Preschooler with a Baby
So here is my plan –
During the baby's first nap of the day, I'll do the "Start the Day" routine, the read aloud, "Things to Talk About" chat, and the learning activity.
Then I will save the easy/independent activity for later in the day, when I need a little "break" from my chatty preschooler 🙂
Want to Join us with Playing Preschool?
You can read more and get a free sample of a thematic unit by clicking here.
Follow our journey on Instagram! I plan to post pics of our homeschooling adventures there!
Pin It for Later!